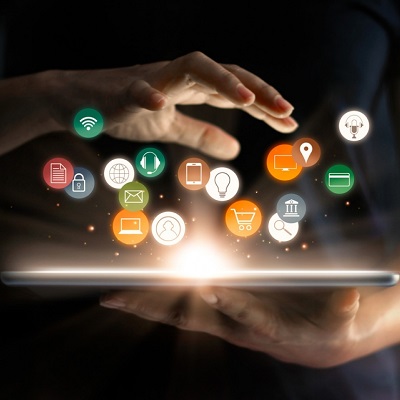 Innovations in banking: What will fintech payments look like in 2025?
From Apple Pay taking over the world to scanning your eyeball to pay for your weekly Woolie's shop, payments in the year 2025 could look pretty different to how they do today.

According to recent research from Mastercard, Australians largely agree that in just five years time, cash will become the least used payment method. This may seem far-fetched, after all five years isn't that far in the future, but in fact it's a trend that is already happening. Ask yourself, when was the last time you visited an ATM or paid for anything with notes, coins or cents?

Statistics released by the Australian Prudential Regulation Authority last year, show that ATMS have been in steady decline all across Australia since 2017. So perhaps a future where digital wallets are commonplace and biometric and invisible payments are the norm isn't so out of reach. And out of all the digital wallets on offer today, Apple Pay is on track to be one of the most popular in five years time.

Apple Pay set to make up 10% of all global transactions by 2025

With invisible payments on the rise, and apps like Uber, Ola and Foodora becoming more and more popular, it's no wonder that Apple is set to become even bigger by 2025.

Currently Apple Pay transactions account for around 5% of global card payments, but recent research from Bernstein analysts shows that this number could double in five short years. Bernstein's data shows that 10% of global card payments could be made using Apple Pay by the year 2025.

Apple Pay works pretty much in the same way as other digital wallets such as Samsung Pay and Google Pay. The only thing that probably sets it apart from the rest is the popularity of Apple products in general.
To read more about fintech payments, please click on the link below…
Source: Innovations in banking: What will fintech payments look like in 2025?