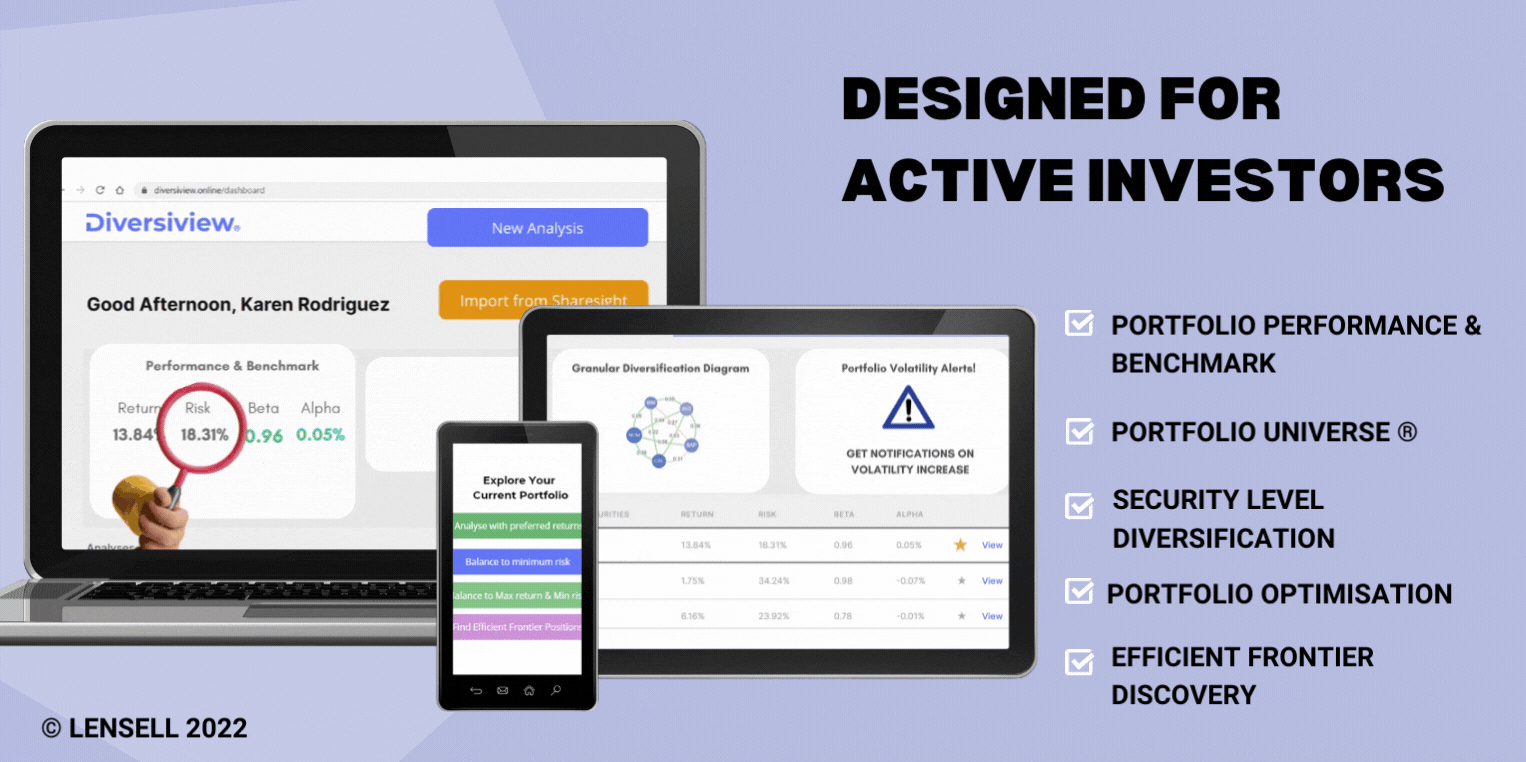 LENSELL® is a Global Platform for Corporate Performance Democratisation.
It uses digitalisation, standardisation, data analytics and AI to help active, self-directed investors make better informed decisions with better insights.
LENSELL makes access to standardised financial and non-financial corporate performance insights quick, easy, and very affordable – because modern financial decision-making process requires access to quality information and state of the art technology.
PRODUCTS AND SERVICES
Diversiview is the #1 AI-based Portfolio Design and Optimisation tool for active investors who want to create personalised, risk-informed, performant portfolios.
60% of the Australian investors are self-directed. Without professional advice to rely on, they base their investment decisions on their own knowledge, financial literacy and a plethora of online resources recommending different courses of action when it comes to investing.
Many investors are often left to either pick from a range of pre-determined portfolios from fund managers or follow the media trends and invest in what's cool at the time. They become anxious when markets move downwards (nobody would panic when they go upwards!) – and that's because they simply do not know how to calculate and understand the risk they take for the return they expect, and how that risk aligns with their own level of investment risk tolerance.
Diversiview was built to enable self-directed investors to plan, review and refine diversified and personalised investment portfolios with ease. It allows investors to see the risk (volatility) and expected return of a portfolio, calculate several other important portfolio health indicators (Alpha, Beta, Sharpe ratio), view the granular diversification at security level and run powerful optimisation algorithms to calculate the optimal allocation that works for them.
Currently working with over 2400 ASX securities (all listed stocks, ETFs and managed funds) and the top 15 cryptocurrencies, Diversiview will soon expand to include US and Hong Kong listed securities.
You can run Diversiview for free to see how it works, or choose from the ad-hoc analyses or subscription plans.
To learn more, please watch this short video: https://diversiview.online/homepage.mp4
Polairis is an easy-to-use web application that allows Australians to quickly search and visualise over 4000 pollutant facilities in Australia. They can search by address, by suburb or by company.
Users can see where polluting facilities are located, which toxic substances they emit to air or water, or transfer to land, and read more about the human and environmental impacts of 95 toxic substances.
Based on open environmental data including National Pollutants Inventory and NGER data, Polairis is the tool to go if you care about your family's health, sustainable real estate or investing in low footprint companies.
Polairis is free to use for search and you have the option of purchasing a detailed pollution report for your selected search space.
Know who you do business with, locally and internationally!
Maintained by the Global Legal Entity Identifiers initiative (GLEIF), the LEI dataset is a register of unique company identifiers containing standardized information on legal entities globally.
Each LEI number is is a 20-character alphanumeric global identification standard based on ISO standard 17442:2012.
The data is registered and regularly verified according to protocols and procedures established by the Regulatory Oversight Committee. It enables "smarter, less costly and more reliable decisions about who to do business with" (GLEIF,2020).
In Australia, LEI are required by ASIC in several circumstances, including for OTC derivatives trading and deposit taking institutions in some currencies.
Get or renew your LEI number today – from AUD$75 / year ONLINE IN SECONDS!
Special Offers for Australian FinTech Members
25% OFF on ad-hoc Diversiview analyses with more than 5 securities. Select the Engager option and use code AFIN22. (Note: Diversiview is FREE for up to 5 securities)
SAVE on LEI Registration and Renewal fee from only AUD$65 / year – contact the team at [email protected] to redeem this offer.
Subscribe to the LENSELL newsletter for future updates about their products and services.
Connect with LENSELL:
Email:             [email protected]
Website:        www.lensell.online
LinkedIn:       www.linkedin.com/company/lensell-group
Twitter:          www.twitter.com/lensellgroup
Instagram:     www.instagram.com/lensellgroup