End-to-End Identity Proofing and AML Compliance Solutions 
Are your customers really who they say they are?
In today's digital world, identity matters. Are your customers who they say they are? Can you know for sure?
Jumio's identity proofing, eKYC and AML Compliance solutions are designed to automate the online identity verification process, prevent online identity fraud and meet KYC and AML compliance mandates while providing a frictionless onboarding experience.
Easy access to the Australian Document Verification Service (DVS), allows Australian businesses to verify government-issued IDs in real time and really trust their customers are who they say they are. Leveraging biometrics, automation, AI and the latest technologies, Jumio solutions redefine how you establish and maintain trust online.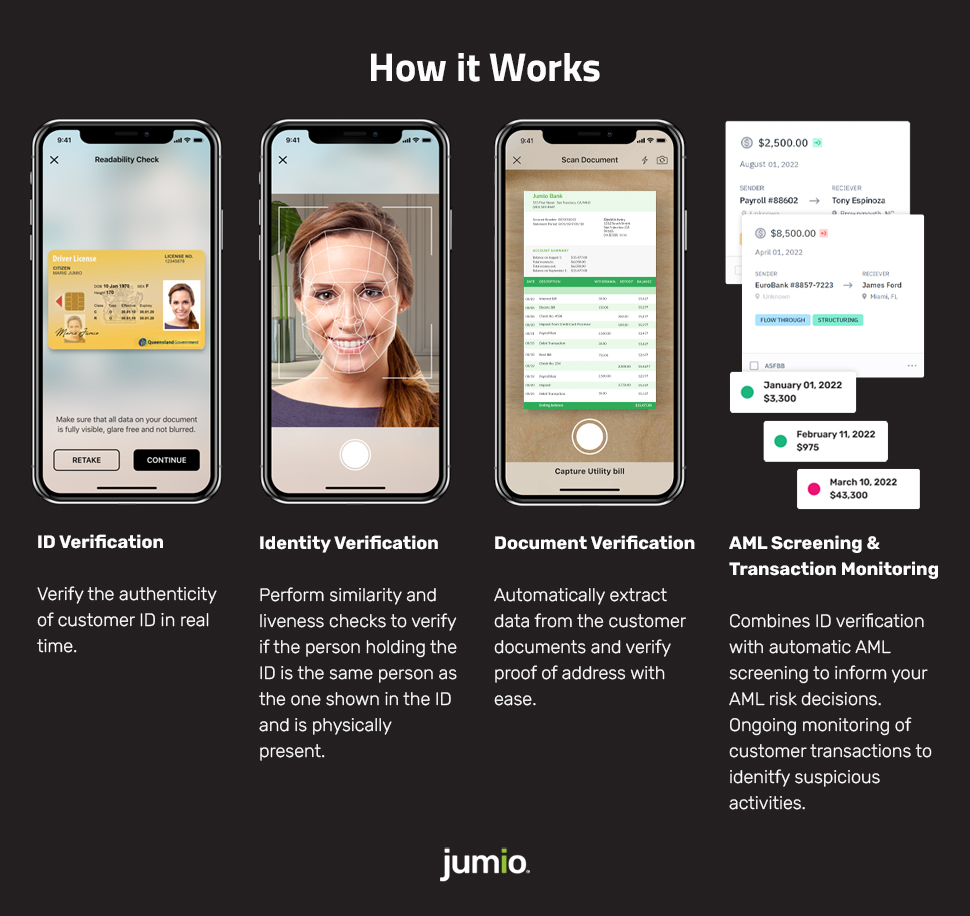 ID Verification – customers scan their ID document with their mobile phone or webcam. Data is automatically extracted from identity documents to definitively assess their authenticity. Computer vision, machine learning, AI and verification experts are used together to verify IDs in real time.
Identity Verification – uses artificial intelligence, machine learning and biometrics to automate the verification process and help companies improve conversion rates, comply with AML and KYC regulations and better detect fraud, all while delivering a definitive yes/no decision in seconds. As simple as taking a selfie.
Document Verification – provides companies with a quick and easy way to verify customer information through identity documents and secondary documents captured on a smartphone. Automatically determine proof of address from pictures of utility bills, credit card and bank statements.
AML Screening & Transaction Monitoring – seamlessly combine KYC-compliant ID verification with politically exposed persons (PEPs), sanctions and adverse media screening and monitoring for instant results and reduced false positives. Detect suspicious activity, manage investigations, leverage external data sources – all in the cloud.