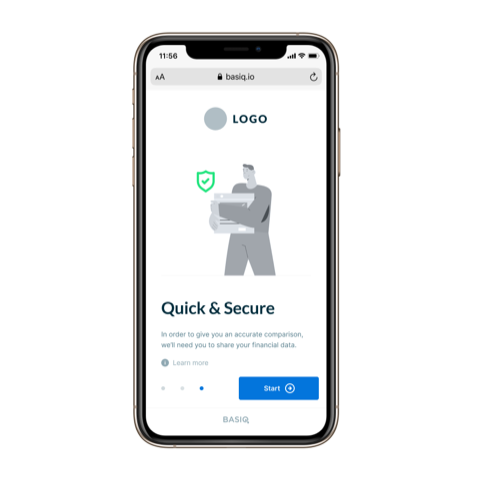 What open banking will look like for consumers
Basiq, a NAB Ventures, Salesforce Ventures and Reinventure backed open banking platform, is excited to reveal the first version of their CDR (Consumer Data Right) Consent experience, which will allow consumers to consent and share their data in a CDR-compliant and user-friendly manner.
Australia's Consumer Data Right (CDR) enables open banking by setting out protections for consumers to safely share their data with accredited, trusted recipients. Once consumers share their data, they can access a range of products and services, such as comparison tools for credit cards and mortgages or budgeting tools that help them better manage their finances.
According to CDR legislation, the process of sharing data is only possible if consumers can provide voluntary, express, informed and time-limited consent. As a result, the ACCC and CSIRO's Data61 have led the creation of a series of standards and guidelines that mandate how consumers will share their data. The CDR Consumer Experience Standards is an important piece of legislation in making open banking a reality.
Specifically, it provides over 100 pages of rules on how this consent should be given, governing everything from standardised consent models and language to the font weighting being used.
Specifically, the Basiq Consent experience has been designed to align with the rules set out in the Consumer Experience standards; such as the allowing users to select which data they'd like to share and the ability to withdraw their consent at any time.
According to Basiq, they have focused on creating a positive user experience that encourages consumer trust and understanding, yet is simple and easy to navigate. For consumers, the process of consenting and sharing data is simply a stepping stone to accessing a broader range of financial products. As a result, providing all the information necessary whilst ensuring the user is not overwhelmed is vital. Working within the confines of regulatory requirements can make the second part especially challenging.
The design of a CDR Consent flow dictates how consumers experience and understand open banking. For many consumers, it will be their main source of interaction with open banking and CDR legislation. If the Consumer Data Standards are not interpreted in a user-friendly way, there is the risk of confusing and alienating users away from taking advantage of open banking.