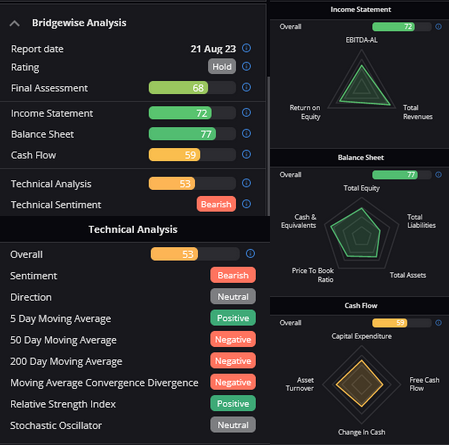 AI to provide Marketech clients with more focus
Perth-based share trading platform developer Marketech continues to push the boundaries of innovation, partnering with Bridgewise for the integration of AI-Powered Fundamental Analysis.
Marketech's fully integrated charting, market data and trading platform, Focus, was created as a resource for clients to perform their own technical and fundamental analysis in identifying trading opportunities. Now, with access to the AI-enhanced stock analysis technology from Bridgewise, Marketech aims to completely transform the trading experience for novice, retail investors and expert traders alike.
Bridgewise' proprietary algorithms analyse many of the largest companies on the ASX and rank them based on fundamentals that they refer to as "future performance predictors".  According to Bridgewise, for the experienced trader, whilst understanding the intricate interplay of market variables is second nature, AI provides faster analysis and the ability to make even smarter investment decisions. For the less experienced, working out what to buy (and sell) can feel overwhelming and scary, and Bridgewise' AI can help make informed decisions even if without fully understanding all the data involved in traditional fundamental analysis.
Marketech's Managing Director, Travis Clark, said, "We have taken the Bridgewise AI-enhanced raw data, and enhanced it again into spider-chart displays, providing busy investors with intuitive access to technical and fundamental analysis at a glance. These visual representations of data will allow investors to quickly identify, and/or confirm, potential investment opportunities."
Following on from eToro's announcement of a partnership with Bridgewise, and Marketech's recent Canstar Gold Star recognition (Outstanding Value – Trader), this latest enhancement further boosts Marketech's Focus platform credentials as a world-class share trading resource for active investors.
Marketech's Vision for the Future 
Clark emphasized that Marketech's strategic vision extends well beyond retail trading of Australian shares.
"Marketech is a platform business, able to cost-effectively deliver customised market trading tools for corporate customers, through our uniquely versatile and customizable FastIQ caching engine. We chose the Australian share market as the first venue to test and demonstrate the capability of our platform abilities."
In their second FastIQ deployment, the wholly-owned and operated Focus front-end platform, Marketech have combined Australian market data, technical and fundamental analysis tools, plus third-party services – such as trade execution via Openmarkets, market updates from Marcus Today, and now AI-Powered fundamental analysis from Bridgewise. But Clark says their platform tools can cater to any tradeable market and any third-party data source.
Clark added, "You'll soon be able to listen to live-streamed or archived market podcasts, watch live-streamed or archived company updates, attend virtual presentations and seminars, and even virtual AGMs.
"Eventually, we envisage that individuals or companies will be able to select from a menu of options – the markets they want, the related third-party content, product features, and the financial services that they want to use, or offer to their clients, and have it delivered much more efficiently than other alternatives.
"Any third-party business that wants to provide market related content for their own purposes, will be able to embed their own content, add their own logo, and promote the platform as if it were their own, to sell their own products.
"We intend for our FastIQ engine to provide the framework for quickly and easily delivering any type of market data or market content, sort of like an app store for traded markets."
Anyone wishing to view the latest from Marketech can register for a free Focus trial at their website: www.marketech.com.au/focus