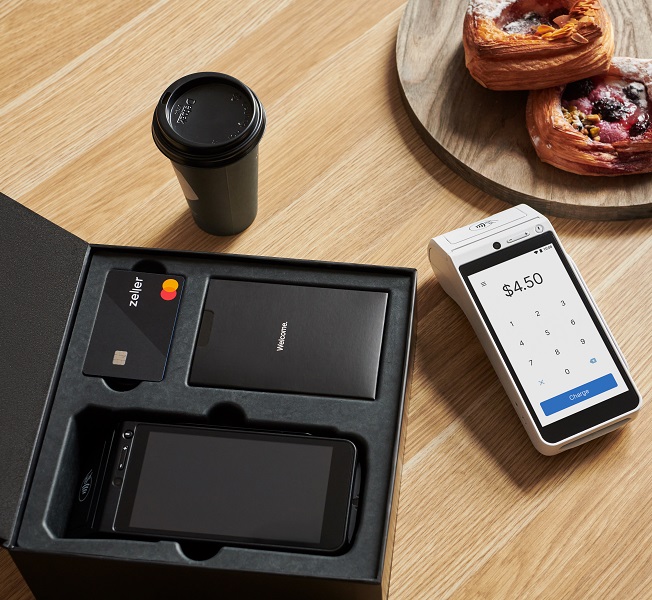 Zeller launches new business banking alternative for underserved Australian businesses
Australian fintech Zeller today unveiled their reimagined business banking solution targeted at business owners historically underserved by traditional banks.
Zeller's new business banking alternative accelerates cash flow by giving merchants a next-generation EFTPOS terminal, free business transaction account, and free business Mastercard, all in one box.  By seamlessly combining these services into a fully integrated solution, Zeller significantly reduces the time businesses spend on finding a merchant services provider, completing lengthy applications, getting set up, and connecting disparate payments and financial services solutions.
Following a challenging year where businesses faced a pandemic and multiple lockdowns, sentiment towards traditional banking services delivered by the incumbents is at a low. Combined with an accelerated shift away from cash, business owners are demanding affordability, simplicity, and innovation from their payments and financial services providers. Research conducted by Zeller in April of this year revealed:
Outdated EFTPOS technology is driving dissatisfaction: 71% of business owners using clunky EFTPOS terminals regularly consider switching providers
Businesses are demanding affordable alternatives: 61% of businesses are looking to switch providers, because of high costs and expensive fees, slow deposits to their funds impacting cash flow, and not being able to access local support within their area
Businesses aren't satisfied with the Big 4: 67% of businesses would prefer a non-Big 4 bank, while more than 1 in 2 (57%) would opt for a new, digital-first business bank
Regional businesses feel underserved by the incumbents: 44% of regional businesses feel underserved by their current business bank, as a result of expensive fees and lack of availability to local service
"Australian business banking is fundamentally broken. A lack of innovation from the incumbents means merchants are overlooked and underserved, at a time when they should be thriving. They need new tools, technology and service to build and grow," Zeller CEO and Co-Founder Ben Pfisterer said. "Zeller delivers affordable, accessible and innovative tools enabling businesses to get paid, access their money, and manage cash flow — without ever having to set foot inside a bank. We're reimagining business banking for Australian merchants through innovative new technology, backed up by local support and personalised service."
Built specifically for businesses 
Zeller's fully integrated, out-of-the-box solution enables businesses to accept card payments via Zeller Terminal, securely store funds and manage finances with a free Zeller Transaction Account, and spend funds instantly with Zeller Mastercard. By solving multiple pain points throughout the merchant journey, Zeller saves businesses both time and money:
Instant setup: Businesses can sign up free for Zeller online, and then accept payments with Zeller Terminal within minutes — without ever having to set foot inside a bank
Streamlined payments: Zeller Terminal replaces clunky, outdated EFTPOS terminals so businesses can accept card, mobile wallet and QR code payments
Clear and fair pricing: Zeller Terminal is priced at $299, with a low 1.4% processing fee for any card payments. Zeller has no monthly terminal rental fees or hidden charges, and the Transaction Account and Mastercard are included free with no annual fees.
Immediate deposits: Businesses can choose to sweep funds to any existing bank account, or access them even faster by depositing to their free Zeller Transaction Account
Local support: Zeller's dedicated, Melbourne-based team offers personalised support to all customers via phone and email
Melbourne-based business Rush Escape Game has been using Zeller Terminal for the past several weeks to accept payments at both of their locations. Aaron Taylor, General Manager of Rush, also agreed with Zeller's research, noting that "We've banked with one of the big three banks for seven years. We've struggled with a lack of service and really confusing, expensive processing fees. Rush is growing fast as we ready to open our 3rd location — meaning we need a scalable, affordable and innovative solution that serves our business banking and payments needs. We don't feel like we can get this from the banks anymore, which is why turning to Zeller was the right move for Rush."
Local support, global backing 
In a move to give business owners instant access, Zeller is available in Officeworks stores nationally; bypassing the traditional merchant services model of expensive monthly terminal rental fees, or needing to wait weeks for terminal delivery after the bank has approved merchant access.