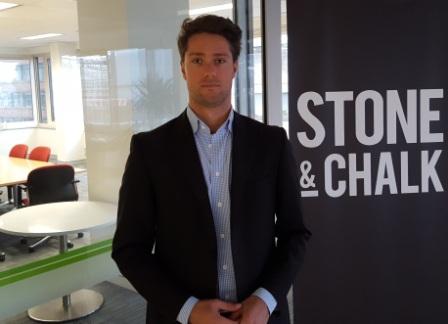 Stone & Chalk founded startup SkyBuys to launch duty free project with Heinemann Australia
SkyBuys is pleased to announce Heinemann Australia (HEINEMANN Tax & Duty Free) has signed an agreement to trial the SkyBuys App and technology platform for duty free shopping.
Announced today at the Airbus BizLab DemoDay in Hamburg, the SkyBuys-Heinemann Australia project is scheduled to commence in early Q3 2018 at Sydney Airport, Australia's major international airport.
Founded at the Stone & Chalk fintech hub in Sydney, mobile commerce startup SkyBuys developed the SkyBuys App for international passengers to shop for duty free at any stage of their journey, including in-flight. The App allows passengers to search and purchase duty free inventory in-app from the time they receive their ticket through to the time they arrive at their destination, with fulfilment in-store through duty free shops in airports or downtown.
SkyBuys CEO and Founder Alec Kemmery said that today's passengers are increasingly connected and demand a better experience when they fly. SkyBuys addresses this by delivering a unique duty free shopping application that enhances international passengers' end-to-end journey experience.
For the project with Heinemann, during 2H 2018 passengers arriving and departing from Sydney Airport will be able to use the SkyBuys App to buy goods from Heinemann duty free stores. Geo-fencing technology used by SkyBuys will also ensure passengers are reminded, whilst within the airport precinct, of items they have tagged as being of interest. Additionally, Heinemann and luxury brand managers will be able to use the SkyBuys App to push notifications to passengers alerting them to special offers or to new product lines.
"SkyBuys is excited to be working with one of the world's leading duty free groups. Heinemann have a significant investment in technology and logistics for travel retail, and were the first duty free company to utilise technology to develop a highly personalised digital offer for customers linked to in-store privileges. We see this to be a logical fit with SkyBuys' online-to-offline mobile commerce focus, and our ability to offer a revolutionary service to these passengers will extend the world class shopping experience already on offer at Sydney Airport," Mr Kemmery said.
A subsidiary of the global duty free enterprise Gebr. Heinemann, Heinemann Australia represents the group in the Trans-Tasman region, in conjunction with winning the duty free tender at Sydney Airport in 2014. Heinemann Australia now operates around 10,000 sqm of retail space at the international destination port.
Globally, Heinemann supply an expansive duty free range of global branded goods to international airports, airlines, cruise liners and border shops in over 100 countries. The group's retail operation now serves more than 40 million customers annually, across a wide array of categories including perfumes and cosmetics, wines and spirits and confectionery.
Managing Director Heinemann Australia Constantin Wiesmann said that the group is always interested to trial new ideas to meet customer demands and deliver unrivalled service in Australia and around the world.
"We have been inspiring shoppers since 1879, and we have learnt that to be successful over time you have to be able to reinvent yourself. Our goal is to remain an engine of innovation in the travel retail market while continually surprising travellers with outstanding offers and ideas. Engaging with new technologies, such as SkyBuys, is an important part of achieving this objective," Mr Wiesmann said.
SkyBuys has been in discussions with Heinemann since being selected for the acceleration program at Airbus BizLab in Hamburg in October 2017, where founder Alec Kemmery is currently based.
Signed in Sydney, the SkyBuys project with Heinemann represents the first live trial with a global concessionaire. Prior to this, SkyBuys developed its beta at Airbus BizLab with the Airbus Shop, allowing the startup to showcase the functionality of the SkyBuys App and to test user experience, payment integration and fulfilment options.
"The opportunity to develop the SkyBuys concept through the Airbus BizLab accelerator has been transformational for us. In addition to advice and mentoring, we have been privileged to receive financial and technical support from Airbus. Furthermore, the professionals involved with the program in Hamburg have made introductions across the aviation industry and around the globe to allow SkyBuys to progress. Without the beta we launched at Airbus BizLab, we would not be in a position to work with the world's leading concessionaires and airlines today," Mr Kemmery said.
Airbus BizLab is a global aerospace accelerator, where technology startups and Airbus intrapreneurs develop innovative ideas into viable businesses. The aviation-focused accelerator collaborates closely with selected startups to assist progress concepts and prototypes as well as to allow smaller organisations to learn how to work and partner with larger groups. Over the past two years, Airbus BizLab have hosted over 50 start-ups and Airbus internal projects in the six months acceleration program run at Toulouse, Hamburg and Bangalore.