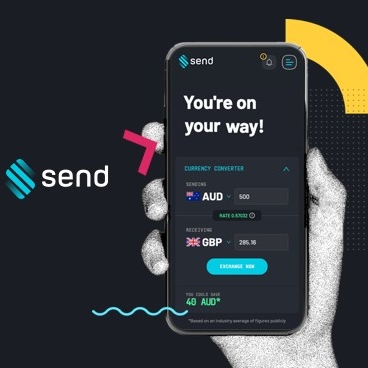 Send partners with Woolworths Employees Credit Union to integrate their FX platform
Send announce they have partnered with Woolworths Employees Credit Union to offer members and their families preferential exchange rates and an improved digital offering for their international money transfers.
Woolworths Employees Credit Union provides a broad range of financial products and services that includes a selection of savings and investment accounts, loans, insurance and financial planning.
Send will be enabling Woolworths Employees Credit Union to continue providing their members quality financial products and an improved digital experience by offering international money transfers through Send's easy-to-use FX platform that includes no fees, market leading exchange rates and access to friendly FX experts.
Woolworth's Employees Credit Union CEO, Rod Attrill said, "We understand how important it is to have an efficient, convenient and cost-effective global banking platform and I see value in the way Send can increase our financial products and services through their market-leading technology and digital product offering."
Further to this he added, "Handling global payments and understanding an ever-changing market is something we're leaving to the experts and as a multi award-winning company, we know our members are in good hands."
At Send they understand the importance of community and education to Woolworth's Employee's Credit Union. As they continue their mission of fixing a broken foreign exchange industry, Send are focusing on educating their members on all thing's international transfers, market movements and general currency knowledge.
Send CEO, Paul Billing said, "It's really exciting to collaborate, both now and into the future, with Rod and the wider Woolworth's Credit Union Team on how we can continually add value for all their members when sending or receiving funds from overseas. By coming together with another like-minded business such as Woolworth's Credit Union means we can help bring products to market that make all their members' lives easier."