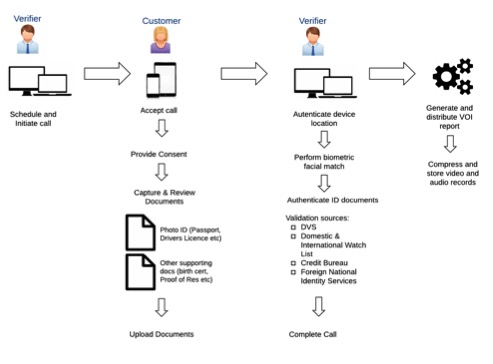 Regtech player e4 introduces Australia's first-ever Virtual ID solution
South African regulation technology company e4 has arrived in Australia with the promise of enhanced corporate regulatory compliance and superior customer convenience, thanks to its introduction of Australia's first real-time, 'virtual' alternative to face-to-face ID verification.
e4's new Virtual VOI (Verification of Identity) platform delivers Australian businesses the first ever digital opportunity to ensure compliance with global and local anti-money laundering and counterterrorism financing (AML/CTF) standards, increased customer and workforce convenience and a substantial saving against other ID verification services in operation across the country.
Founded in 2000, the e4 Group has already become a dominant and trusted software and technology services provider to the banking, legal and government industries across South Africa, the UK, USA and Mauritius and operates in Australia under the direction of Managing Director Stuart Hosford.
Using the platform, businesses are able to make secure video and audio calls to customers and run biometric facial recognition software to match the live customer image to the ID documentation (driver's license, passport) supplied and uploaded as part of the call.
In addition to the facial recognition, all Australian issued identification documents can be authenticated to the Australian Attorney General's Department Documentation Verification Service (DVS), with the verified results being passed back to the verifier for review in a matter of seconds. On completion of the call, the platform compresses all video and audio records, and produces a comprehensive VOI report. These records are then stored for future use and as record of due diligence should any dispute arise.
"We know that today's customer is time poor at best, so the opportunity to cut out the need to visit a branch or post office in person to verify their identity will be welcome one. From an organisation perspective, a Virtual VOI call not only cuts down on costly hours spent on customer scheduling and follow up, but also provides a reliable, consistent and scalable mechanism to manage their Know Your Customer (KYC) regulatory programmes," comments Hosford.
e4's first implementation of the Virtual VOI in Australia has been through consumer mortgage website HashChing, which uses e4 to provide a Virtual VOI capability to their broker panel when submitting new mortgage application to lenders.
"We offer a very pragmatic opportunity for businesses to improve their customer onboarding experience at reduced risk and cost. This is a unique proposition given that customer convenience and regulatory compliance are most often not complimentary in their objectives. What is currently a convoluted and lengthy process will become a seamless digital experience that can be competed in five minutes or less from anywhere with an internet connection," adds Hosford.
What Virtual VOI offers:
Web and mobile interfaces for digital access across all parties (lenders/brokers/customers)
Integrated video feed with facial recognition and biometric matching
Document validation through Australian industry data sources (e.g. DVS)
Optional verification against local and international Watch Lists (for additional AML checking)
Full audio and video recording and storage for future reference as required
Automated composition and delivery of customisable VOI reports
Verification of customer location through location services on client device
How Virtual VOI works: