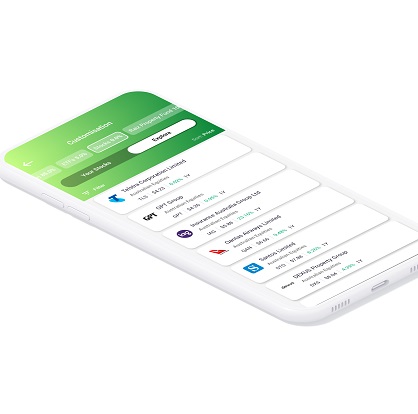 Raiz Invest launches fully customisable Plus portfolio with access to single stocks
Raiz Invest, Australia's largest mobile first financial services platform, has launched its new portfolio, Plus, adding ASX stocks to the platforms product offering (1st August 2023).
With Plus you can build a fully customisable portfolio from a selection of ETFs, single stocks on the ASX, bitcoin and Aussie residential property. Users can get fractional exposure to all of these asset classes with unlimited trades and a minimum investment of just $5.
One of the most exciting additions is allowing Raiz users to invest in fractional Aussie stocks, who will be able to add up to 50 well-known stocks on the ASX to their portfolio.
Serving as a successor to the Custom portfolio, Plus has been designed from the ground up to deliver a best-in-class user experience. The new user interface makes building your own portfolio easier than ever, with intuitive menus that allow users to quickly browse and make edits to their portfolio.
The makeup of a Plus portfolio is completely customisable. Starting with 100% of your portfolio weighted to one of Raiz's pre-built portfolios, users can then build upon their portfolio to suit their own financial goals, needs and circumstances. For example, you could allocate 20% of your portfolio to ETFs, 15% to single stocks, 10% to the Raiz Property Fund and 5% to bitcoin, leaving the remaining 50% to be invested into your pre-built base portfolio (for example the Aggressive portfolio).
Raiz Invest CEO Brendan Malone says: "Our mission has always been about making investing easy and accessible for everyone. Plus brings to the table a product which matches our customers' growing investing experience while maintaining our easy-to-use design principles.
"It's quite a unique product in that you can construct your own portfolio from a diverse range of assets, and actually invest into all of them as often as you like for just one monthly fee.
"A key design component of Plus was having the user start with one of our familiar pre-built portfolios as a base, making it a comfortable experience to add as little or as much customisation as they like."
Customers invested in a Plus portfolio will be charged a monthly maintenance fee of $5.50, if the account balance is under $25,000. For account balances equal to or above $25,000, then a fee of 0.275% p.a. will apply and no maintenance fee. More details and worked examples can be found in the Product Disclosure Statement (to be released on 1st August 2023 in line with the product launch).
The customisability of Plus extends beyond portfolio construction, even giving you the ability to choose a name and colour for your portfolio.
Plus is available from today to both existing and new Raiz customers on mobile and desktop devices.