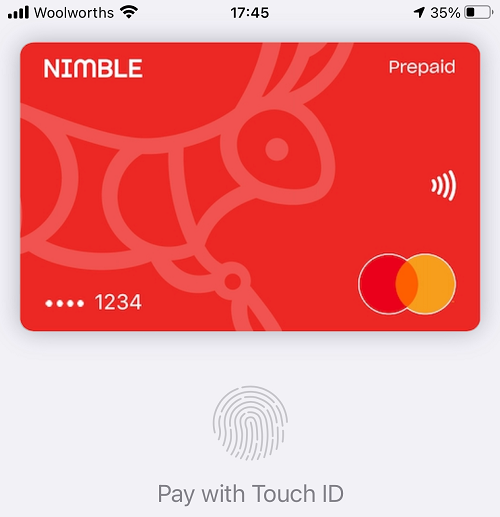 Nimble repositions lending business, launches new Nimble AnyTime product in exit from payday lending space
Australian lender Nimble today announces the launch of Nimble AnyTime, a virtual prepaid Mastercard issued by EML, that provides customers with access to a fixed Nimble credit limit of up to $10,000. The timely launch of AnyTime signals Nimble's latest commitment to responsible lending, as it is revealed that one in four Aussies cannot pay an unexpected bill of $1,000.
With credit limits ranging from $1,000 – $10,000 and transparent repayment terms, Nimble AnyTime offers a more flexible line of credit than Buy Now, Pay Later (BNPL) services and more transparency than credit card repayments. Nimble's latest product offering has been designed to help Aussies better manage both planned and unplanned expenses. The virtual card can be used to make contactless payments through a digital wallet at the point of sale or to make online purchases using the card number and CVV. Alternatively, customers can transfer funds into their personal bank accounts. 
Nimble AnyTime balances will be repaid, at most, over 12 months, giving consumers full control of the fixed monthly, fortnightly or weekly repayments – and can align to the customers wage schedule – with no surprise fees. AnyTime serves the evolving needs of Australians today by catering to a growing cohort often excluded by mainstream banks, with assessments made within two hours based on advanced Artificial Intelligence and Machine Learning. 
The launch comes as new research from Nimble found that one in four (27%) Australians would not be able to pay an unexpected bill of $1,000; a figure that rises to one in three (33%) for 18-24-year-olds and 30% for 25-34-year-olds. What's more, 51% of Aussies have struggled to pay bills or other financial obligations and one in three (34%) do not have an emergency fund for a rainy day.
This financial strain is taking its toll on Aussies' social lives and relationships. More than half (56%) of Australians have lent money to a friend or relative and never had it repaid, and one in five (21%) have fallen out with a friend or relative over borrowed money. In addition, almost half (42%) have said no to a special event such as a birthday or wedding because they couldn't afford it.
Nimble AnyTime allows for 'mindful spending', and caters to the growing market of Australians seeking a more responsible alternative to BNPL solutions and a more accessible alternative to traditional banks. 
Commenting on the launch, Gavin Slater, CEO and Managing Director of Nimble, said, "The reality today is that people move jobs frequently, rent their homes and require a more nuanced approach to accessing credit; whether that's to cover an unexpected bill or to fund a special occasion. The fact that one in four would be unable to pay an unexpected bill of $1,000, is proof of the need for change. Through the launch of Nimble AnyTime we're doing exactly that; catering directly to a growing market and the evolving needs of Australian consumers today." 
"Too many Australians still suffer from financial exclusion by mainstream banks; excluded because they don't qualify within narrow, inflexible lending 'profiles'. This is more than just the launch of Nimble AnyTime Virtual Mastercard, it's the latest move in our commitment to responsible lending and exiting the payday lending sector – a transition we expect to complete in 2022," Slater continues. "We take seriously our responsible lending obligations and only lend to customers who we've determined can comfortably make their loan repayments. Through Nimble AnyTime, we're continuing to deliver on our mission to make essential financial products and services – at fair and flexible rates – accessible to millions of Aussies."
Nimble AnyTime is available for use in all major digital wallets. To apply, or to find out more, visit nimble.com.au/anytime/.