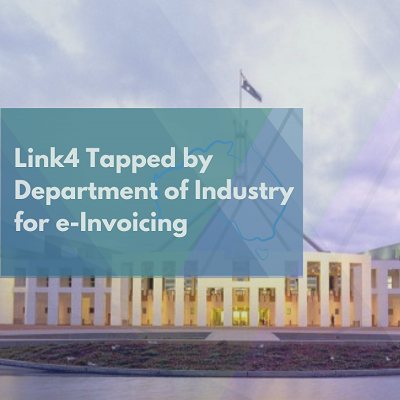 Link4 tapped by Department of Industry for e-Invoicing
Link4 announce that another key Federal government department will be using their PEPPOL accredited access point to meet their e-Invoicing needs. Xcellerate IT and Link4 have been working together to implement e-Invoicing ahead of the government e-Invoicing mandate.
e-Invoicing will give government departments the ability to receive invoices instantly, without the need for email and PDFs. This helps to automate the procure-to-pay process, increasing their efficiency and making the process more secure. As PDF invoices are being intercepted and altered more frequently, e-Invoicing provides a secure channel for invoices to be delivered and processed in a safer way.
By processing invoices faster, the Department of Industry, Science, Energy and Resources will be supporting small businesses (SMEs) to increase their cash flow and reduce the pain of having to wait on outstanding invoice payments.
Departments which focus on economic growth, transformation and support of businesses, especially for SMEs would value e-invoicing. It can help them achieve their goals and make a commitment to pay invoices within 5 days, which can be achieved through e-invoicing.
Link4 was chosen, based on how our service operates under the PEPPOL network and our ability to on-board invoices to the Kofax platform, which is supported by Xcellerate IT. This will allow departments using Kofax to accept invoices from all of their suppliers, both now and in the future.
The Department will leverage their existing Kofax solution for automating accounts payable and extend the functionality to onboard e-invoices integrated with TechnologyOne, providing a holistic view of all invoices types and enabling the Department to receive invoices instantly from anyone sending via the PEPPOL network.
"All businesses that supply the government should review their e-Invoicing strategy," noted Robin Sands, CEO of Link4. "Getting paid in 5 days will be a great help to the cash flow of any business."
The Department of Industry, Science, Energy and Resources is now live and accepting e-Invoices from all suppliers.