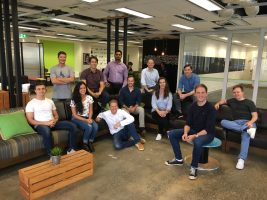 H2 Ventures hosts fourth annual Sydney Fintech Expo to support aspiring start-ups
H2 Ventures together with the ASX and Investec Australia, will today host the fourth annual H2 Ventures Expo.
Fintech industry leaders and investors will join H2 Ventures, one of Australia's leading fintech investment firms, at its annual Fintech Expo which aims to bring together a collective of early stage venture capitalists, entrepreneurs and thought leaders to promote growth and continue to drive change in the financial series industry in Australia.
The Expo features a panel discussion with industry leaders, discussing the state of the Ecosytem. The panel includes Elaine Stead of Blue Sky Funds, Katherine McConnell of Brighte and Wyatt Roy of Afiniti, moderated by Cathy Kovacs from Westpac.
A highlight at the Expo will be a fireside discussion with Scientia Professor Michelle Simmons of UNSW. Professor Simmons is an Australian Research Council Laureate Fellow & Director of the Centre of Excellence for Quantum Computation and Communication Technology. This follows the announcement on Monday, that the NSW government will invest $26 million into quantum computing. Australia is already home to some of the world's leading researchers in the field, with Professor Simmons considered to be a leading expert.
The Expo showcases 7 promising start-up businesses who have graduated through the H2 Accelerator program. This is an opportunity for investors and industry guests to have a first look at new and innovative products and services from some of the most exciting new fintech companies in Australia.
DiviPay – www.divipay.com, a split billing app with joint spending accounts, founded by Russell Martin and Daniel Kniaz.
DishMe – www.dishme.com.au, a fresh and healthy homemade food delivery service founded by Pushpinder Bagga.
Goodments – www.goodments.com, a socially aware investment app founded by Emily Taylor and Tom Culver.
InsideSherpa – www.insidesherpa.com, who offer tailored career help to students founded by Tom Brunskill and Pasha Rayan.
Reji – www.heyreji.com, a digital sales and service assistant founded by Justin Osmotherly.
Mosaic – www.mosaic.money, an app designed to make investing simple founded by Sam Nixon and Matt Jones.
Nod – www.nod.money, a financial advice platform founded by Joel Robbie and Jesse Skelton.
Dr Toby Heap, Founding Partner at H2 Ventures, says he's excited to have seen the H2 Ventures Fintech Expo grow as part of its commitment to advancing Australia as a global fintech leader. "We believe Australia is poised for growth as a global leader in this space, it's more important than ever for industry leaders to come together to help support, inspire and bolster the talent that start-ups have to offer," he said.
"Innovation through technology is continuing to transform how we live. We're excited that we can provide a platform for aspiring entrepreneurs to learn and grow from, while also providing unique opportunities for investors."