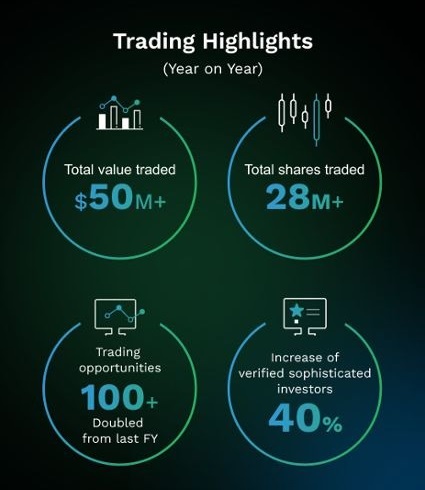 Growing pool of private companies a drawcard for sophisticated investors
PrimaryMarkets, a capital raising Platform for unlisted companies and part of the ASX listed Complii Fintech Solutions Group, says there is a growing number of Australian companies that are choosing to remain private longer and looking at alternative avenues to raise capital outside the traditional IPO route.
This trend, combined with sophisticated investors also becoming more aware of and attracted to the investment opportunities these companies offer, is creating the perfect storm, says Jamie Green, Executive Chairman of PrimaryMarkets.
Green said, "Today the number of listed companies, always only a tiny fraction of all companies, is contracting. Over the past 25 years, the number in the US alone has halved from 8,000 to 4,000 – and it's a global trend. Looking through a different prism, in 2014 there were 42 late-stage venture companies worth more than $US1 billion in the US. Today, there are more than 1000, a massive increase.
"The ASX has also witnessed a decline in total market capitalization of around 2% in FY23 reflecting a marked decline in new listings.
"It's not just an issue of less companies wanting to list. It's also the fact that many companies are deciding to stay private for longer. It could be because they find regulatory and governance demands too onerous and costly and that their high-growth strategies could alienate new institutional shareholders focused on predictable earnings and dividends.
"Private companies today have other opportunities to raise capital which are more varied. So, the need to go public to fund early-stage development is not nearly as pressing," said Green.
"We believe there is no shortage of investor interest in these established private pre-IPO companies. We are seeing increased capital flow on our Platform in companies that are part of fintech, gaming technology, blockchain, web3 and agtech sectors.
"We have notched over $50 million of trading value the last financial year."
At the end of last financial year, the PrimaryMarkets Platform saw more than 100 companies on the Platform, almost double of what it was the previous year.
"Our Platform provides liquidity for several of the largest private companies in Australia. And, most recently, stockbrokers and AFSL holders can also trade directly on the Platform for their clients following an integration with Complii.
"In making investment decisions, investors appreciate the detailed Information provided by the companies, as well as depth, pricing, and volume, that is available on the Platform.
"Even so, only experienced sophisticated investors who have the industry and market knowledge, as well as the capacity to do their own due diligence, should play in this space," ended Green.