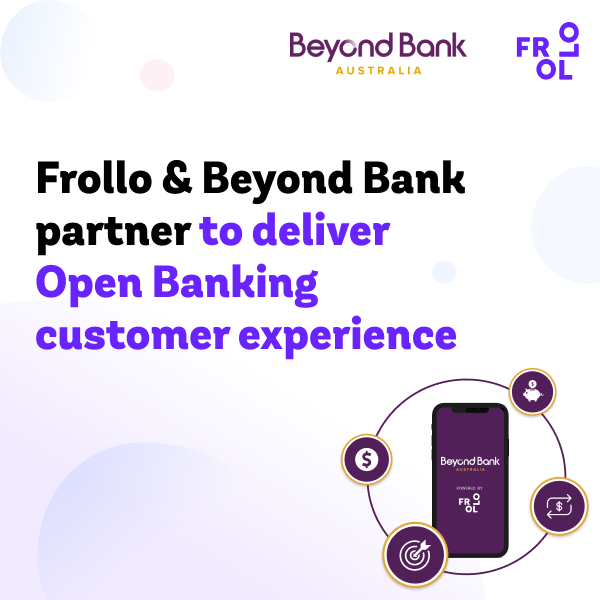 Frollo and Beyond Bank partner to deliver Open Banking customer experience
Australian Open Banking provider Frollo will partner with customer-owned bank, Beyond Bank, to use Open Banking to deliver better customer outcomes. The bank will use Frollo's CDR Gateway to improve multi-banking and lending.
The announcement follows Beyond Bank's accreditation as one of the first customer-owned data recipients in September this year, and is an extension of the existing relationship between the two organisations. The relationship kicked off mid-2021 with the announcement that Beyond Bank would use Frollo's Personal Finance Management (PFM) platform to launch a white label financial well-being app alongside its main banking app.
The bank's financial well-being app, which will provide customers with a full view of their finances is currently being piloted and is expected to launch in early 2022.
The choice to partner with Frollo for Open Banking was a logical one, explains Wayne Matters, Deputy Chief Executive Officer at Beyond Bank, "It's still early days for Open Banking. As the leading Australian Open Banking platform, Frollo offers us an end-to-end solution for most current uses and the confidence they will have any future uses covered.
"We've worked closely with the Frollo team on our financial well-being app and we're excited to continue working with them and use Open Banking data to unlock more value for our customers," Matters said.
Frollo Founder and CEO Gareth Gumbley agrees, "As a purpose driven fintech, it's great to work with a customer-owned bank like Beyond Bank that has similar values and is always looking to deliver better customer outcomes. We believe that CDR will be a big driver of consumer value and we're excited to work together on unlocking this value through financial well-being and responsible lending."