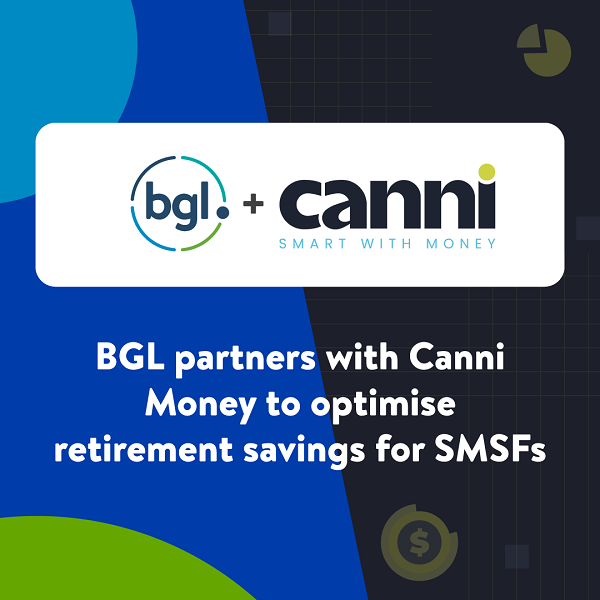 BGL partners with Canni Money to optimise retirement savings for SMSFs
BGL Corporate Solutions, Australia's leading provider of company compliance, self-managed superannuation fund (SMSF), investment management and AI-powered paper-to-data solutions, have announced the launch of its integration with fintech and insurtech software provider, Canni Money, to help accountants optimise retirement savings for their SMSF clients.
"We are excited to add Canni Money to the BGL Ecosystem," said BGL's Managing Director Ron Lesh. "This integration will empower BGL's Simple Fund 360 and Canni Money clients to better engage with their SMSFs, understand their opportunities and ultimately save more for their retirement."
Canni's innovative SMSF Optimiser software offers accountants a consolidated view of an SMSF's assets and liabilities, detailed breakdowns of each client's SMSF assets and liabilities, and an asset list. It can also help to pinpoint opportunities to enhance retirement savings.
Upcoming features include a streamlined referral process to access potential LRBA (Limited Recourse Borrowing Arrangement) loan and property insurance savings, instant property value assessments and audit-quality AVMs.
Mark Flack, Executive Director at Canni Money, said, "It's fantastic to partner with BGL. We share a commitment to consistently delivering tangible value to our clients through award-winning software products. Canni will enable accountants to engage more deeply and easily with their SMSF clients. More importantly, the Canni SMSF Optimiser has the capacity to save substantial amounts to help provide a more comfortable retirement."
Jeevan Tokhi, Head of Simple Fund 360 at BGL, stated, "Canni Money is an exciting new partner that enhances our award-winning SMSF software, Simple Fund 360. Essentially, the integration feeds SMSF data from Simple Fund 360 to Canni's SMSF Optimiser software dashboards, making it easier for the accountant or financial planner to identify opportunities and engage in more strategic conversations with their SMSF clients."
Canni Money is offering exclusive early access to its SMSF Optimiser software for existing BGL Simple Fund 360 clients.
BGL's free and open API is used extensively across the industry with 350+ data feed and integration partners in the BGL Ecosystem, delivering a holistic experience to BGL clients.