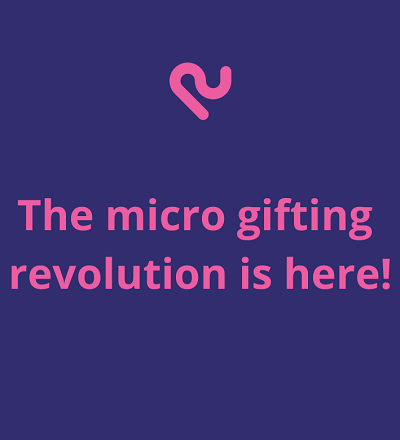 Australia's first nano gifting app launches
Australian's seeking some fun and relief from the year that is 2020 can find it in Shouta, a newly created gifting app. Shouta is revolutionising the gifting category by introducing something fresh – nano-gifting. The app lets users shout small gifts like coffee, drinks and more as a token of their thoughts. Think of it as a digital gesture.
The idea germinated during the era of COVID 19 and lockdowns where Co-Founders, Carly Shamgar and Nick Redwood found there was no fun yet meaningful way to show friends and family that they were thinking of them.
"Online gifts generally focus on hampers or flower bouquets which can be upwards of $100 which is quite expensive, especially during these challenging times, when all you want is to send someone a small token of your thoughts," said Shamgar, CEO and Co-Founder. "Traditional gift cards are tied to specific retailers, and we wanted to create a way of sending instant, digital gifts that are retailer agnostic so they can be redeemed at the recipient's store of choice," she added.
The app also aims to kickstart spending and help smaller businesses like cafes and bars which have suffered so much as a result of lockdowns and the ongoing Corona Virus crisis.
How it works
In the Shouta app, gifters, known as Shouters, select Shouts ranging from $5 coffees to $50 meals or create their own digital Shout up to $250 for those wanting to splurge. They customise the Shout with an image and a message and simply select a lucky recipient, known as Shoutees, from their phone contacts. Then an SMS is sent to their contact with a link to download the Shouta app. Once registration is complete, the Shoutee simply adds their Shouta card, a digital prepaid Mastercard to their mobile wallet to tap and pay wherever their Shout is sold. Shouta charges a small fee on the value of the Shout sent.
To bring the idea to life, Shamgar and Redwood connected with EML Payments, a leader in creating global payment solutions.
"Shouta's incredibly smart solution is the perfect example of disruptive payment innovation in 2020, especially in the run up to Christmas. Carly, Nick and the team custom-created a shake up the market solution to enable straightforward and spontaneous consumer-generated nano-gifting. The timing couldn't be better as every 100% digital, plastic-free Shout gesture is designed to have a meaningful impact on the environment and personal connections," stated Rachelle St. Ledger, CEO Australia at EML.
Shouta is downloadable now from the App Store (for iOS) and Google Play (for Android).