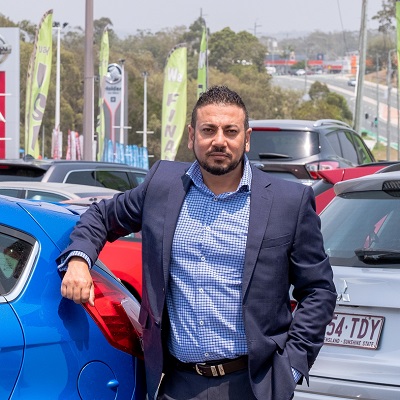 Australian-first Zink technology is making its mark on the automotive industry
An Australian-first zero ink 'three click' car loan is set to revolutionise the automotive industry, allowing dealerships to green light applications within two minutes.
Developed and patented by emerging fintech company AusLoans Finance Group, the largest privately-owned automotive finance broker group in Australia, the new 'Zink' technology has tripled productivity for its in-house brokers since being rolled-out in October.
AusLoans Finance Group managing director Rodney Michail said the company spent two years developing the technology, which it will offer to its workbook of 1100 dealerships across Australia in the coming months.
Mr Michail said the benefit of Zink was two-fold – it increased productivity while ensuring compliance, a major issue facing the automotive industry in the wake of the Hayne commission and impending new dealership finance licensing laws, expected to be in place by mid-2020.
"We have already experienced a three time increase in productivity with our in-house team and believe Zink will have even greater efficiencies for dealerships. I am confident that in that setting, we will be able to double that number again," he said.
"With this technology, you simply take a photo of the customer's driver's licence and within two minutes you have a 'traffic light' assessment – green is a go, orange may warrant further investigation and red is, unfortunately, not eligible for a loan at this time.
"For a dealership to make this assessment in that amount of time is a game changer.  It will save them – and the customer – considerable time. That assessment would usually require a 30 minute conversation, significant paperwork and could damage the customer's credit file – whereas this process leaves zero marks on their permanent file.
"To be able to do this with no paperwork, in two minutes and then be able to focus on what cars are available to the customer in their budget has the ability to change the way the industry operates. It puts the focus squarely on the customer experience, which is a win-win all around.
"The feedback so far has certainly been overwhelmingly positive."
Mr Michail said with dealerships likely to require financial licences to offer car loans by mid-2020, Zink was a credit safe option.
"Dealerships are going through the biggest change they have faced in 40 years in the wake of the Hayne commission, and it is putting pressure on an industry that is already experiencing a tough time, with new car sales falling consecutively for 20 months now.
"Recent Cox Group Research has revealed 16 major issues dealerships believe is restricting their growth – and Zink answers nine of those, including meeting regulations, reducing expenses, boosting consumer confidence and addressing margin compression through new efficiencies.
"When you blend technology with people you significantly boost productivity, customer satisfaction and operational efficiency, Zink has the opportunity to do all those things."
Mr Michail said under the 'three click' system, once eligibility was confirmed, finance options from 40 lenders were offered and car options presented.
"I called 2019 the year of personalisation, and that is what Zink provides, along with complete transparency," he said.
"AusLoans Finance Group has 40 lenders on our books, so instead of a customer being presented with one choice at the dealership, they have a range of options so they can make their own decision based on what best suits their circumstances."
Mr Michail said the 10-strong team that developed Zink was working on final testing for stage two, with a total of seven stages to be progressively rolled-out.
"Our focus was on getting the first two stages out to market- which we believe are the most critical for consumer confidence in this declining market, with stage one the broker application and stage two the customer application," he said.
"While the broker application allows for early assessment efficiencies and in-field capture, the customer application is all about simplifying the process of document collection to improve their experience.  We are hoping to bring that to market shortly."
Mr Michail said Zink was also designed to speak to the largest emerging car market – millennials – and has been designed from real industry-use, rather than out of a boardroom without a deep understanding from within the market.
"Most millennials are beginning their car search on their smart phones, so this technology allows them to make their own pre-assessment of their financial situation and cars that suit, increasing their experience when they arrive at the dealership," he said.