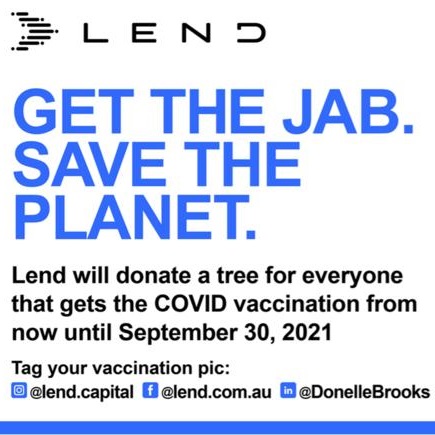 Australian fintech Lend launches 'Get a jab. Save the planet.' initiative
Leading commercial finance hub Lend.com.au today announces the launch of its 'Get a jab. Save the planet.' initiative designed to recognise community, and promote wellness and economic recovery.
From today to September 30, for everyone that gets the COVID-19 vaccination, Lend will donate a tree to the World Wildlife Fund Regenerate Australia project.
"We're initiating this program to celebrate choice and demonstrate support for those who choose to have the COVID-19 vaccination. We do this respectfully, democratically and without discrimination," said Donelle Brooks, Head of Third Party, Lend.
"Conversely, it would be the easy option to 'bury our head in the sand,' though we feel that it's our organisational and personal responsibility to be brave enough to have a voice and show leadership at this time of uncertainty and debate," Ms. Brooks continued.
As well as the human tragedy, it's undisputed that the COVID-19 pandemic continues to cause devastating economic effects. Lend echos the sentiments raised by the independent policy institute, Chatham House, that international co-operation must be a priority to help exit the pandemic, minimise the long-term costs and maximise the opportunity to rebuild. The institute states that there is now an increasingly clear route to bring the immediate crisis to an end by relying on a mass vaccination program unprecedented in speed and scale. Ms. Brooks continued, "We're all in this together: that what we're doing not only affects us individually, but collectively. To this point, we're a strong believer of a 'sum being greater than it's parts.'"
"We're delighted to become part of the Regenerate Australia project, and look forward to hopefully donating a substantial number of trees as a symbol of future growth, sustainability and unity," concluded Ms. Brooks.
The World Wildlife Fund Regenerate Australia project's goal is to restore and protect the homes our wildlife lost during the devastating 2019-20 bushfires as part of the largest and most innovative wildlife and landscape regeneration program in Australia's history.
To participate, tag your vaccination picture on Instagram: @lend.capital, on Facebook: @lend.com.au or LinkedIn: @DonelleBrooks.