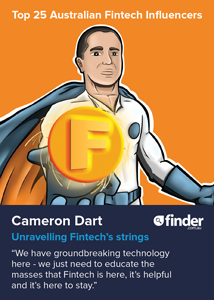 Australian FinTech CEO in the Top 25 Fintech Influencers in Australia
In case you missed it, last week finder.com.au released their Top 25 Australian Fintech Influencers and AustralianFinTech.com.au CEO & Co-Founder Cameron Dart was one of those who made the coveted list.
"We've been working extremely hard over the past 2 years to create a global audience who can access and explore Fintech companies here in Australia. We've also given Australian Fintech companies a platform where they can tell the world about their unique and exciting product or business," explained a humble Dart, honoured to have made the list.
The CEO adds, "There are many people on the list who we have followed, admired and got to know over the past 18 months. There's also several people who we haven't met yet, but am certainly looking forward to meeting and working with them. Surprisingly, there are several key industry players that didn't make the list, and so that humbles me greatly – they're must be some real appreciation for all the work we've been putting in."
But the success of Australian FinTech hasn't been achieved just by Cameron Dart. "Our CIO and Co-Founder, Rob James, along with various others behind the scenes, have all contributed to the success of the site and the launch of our new global site, InternationalFinTech.com," Dart adds.
According to Finder, the people who made the list "…work in a variety of areas within the fintech sector, including lending, venture capital, the blockchain, bitcoin, coworking spaces and hubs, the media and fintech industry bodies."
Finder also go on to say that, "Australia has a strong history with fintech, having been recognised for embracing fintech startups and engaging in international agreements that drive innovation forward."
For the majority of the past 2 years, AustralianFinTech.com.au have been leading the way in promoting these great Australian Fintech companies to the world, and also within Australia itself, via its daily newsfeed of all things 'Fintech', rampant social media posts and a Directory nearing 400 Fintech companies.
Australian FinTech also acts as a connector in the industry and have been instrumental in assisting Fintech companies from Australia who are looking to expand internationally, predominantly to the UK, where Fintech is a well-embraced and well-utilised industry. Last year, Australian FinTech setup a 'launch pad' in London where Fintech companies from Australia can meet with lawyers, accountants, investors, stockbrokers and capital raisers, with a view to expand into, or even move to, the UK.
Since their inception, Australian FinTech have promoted 20+ Fintech events in the USA, UK, China, Malaysia and of course Australia, and in most cases provided discounted tickets for their readers to attend these events.
Australian FinTech is working on a new and exciting platform that with further enhance the Fintech community within Australia – stay tuned!