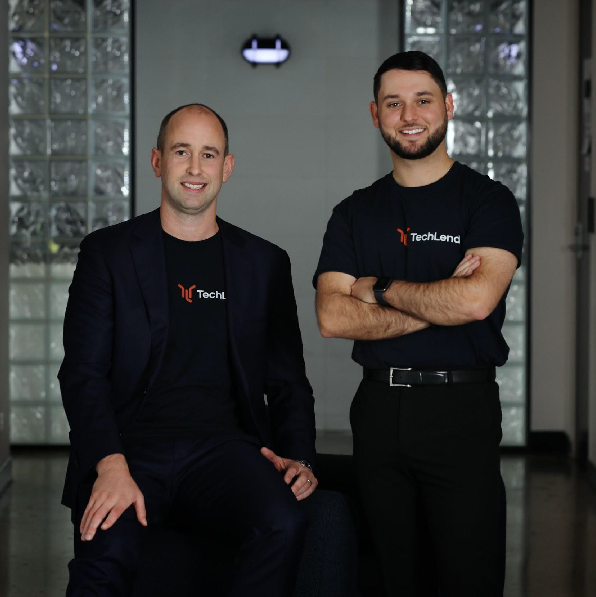 "Afterpay for home loans" launches in Australia
Newly-launched non-bank lender TechLend is disrupting the lending market by offering homebuyers interest-free, paperless, bridging loans with same-day pre-approval, in a revolutionary move that helps reduce the stress from buying and selling properties.
Hinged on its proprietary technology, TechLend leverages property data and values to deliver same day pre-approvals, with a simple set-up cost starting from 1.99% for the first 90 days. The offering takes the pressure off downsizers and families who often struggle to realise liquidity, due to the archaic, slow systems used by the major banks.
TechLend is the brainchild of finance expert, turned TechLend Chief Executive Aaron Bassin (pictured right) and mortgage broker Nick Jacobs (pictured left) after the pair became frustrated with the limitations of traditional home loans. Bassin is the former head of strategy of ASX listed MoneyMe and was integral in bringing the company to IPO in Australia.
"We are tapping into a part of the market that the traditional banks aren't interested in leveraging, due to the short loan period and paperwork involved," Bassin said.
"By providing affordable bridging loans to Australians, we are disrupting traditional lending to bring borrowers better outcomes, and take the stress out of buying a new property."
Property buyers can now utilise TechLend bridging loans of up to $3 million for up to six months, with no repayments required until maturity or earlier when the property sells. The disruptive non-bank lender also provides commercial property loans for loan periods of up to 24 months.
TechLend's received seed investment from Matt Leibowitz, CEO and Founder of Stake, Australia's digital brokerage, and pioneer of commission-free trading in Australia.
Bridging loans stand to represent a huge portion of the property financing market over the next five years, with a recent survey by consultancy Digital Finance Technology revealing that more than 1.6 million households are planning to downsize over that period.
Co-Founder Nick Jacobs said Australian consumers in the property market were, until now, extremely limited by rigid and slow lending options.
"As a mortgage broker, I understand the frustration that comes with traditional lending solutions and the obstacles that many of my clients face when it comes to sourcing funding," Jacobs said.
"Techlend provided a pathway to the great Australian dream with same day turnaround and greater accessibility in a market that is in desperate need of innovation and disruption."