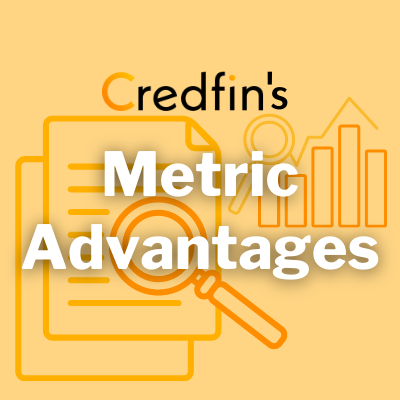 5 Ways Credfin's Metrics Help You Understand Your Customer
Digital lenders stand out from the crowd when they are actively invested in a customer and their journey. Credfin provides many metrics to do just that: help lenders understand their customer on a deeper level. The metrics, which are unique to Credfin, not only assist lenders in making good decisions around customers, but also make a customer's experience personalised and seamless. Here are just 5 ways Credfin's application metrics help you understand your customer on a deeper level.
1. Income and Employment Indicators
Metrics: AM2100, AM2038
These income metrics indicate whether a client is still employed. This is performed through the AM2100 metric which allows Credfin to see an absence in a latest wage deposit. However, there are allowances that mitigate an absent wage deposit, such as sick leave, annual leave commencement, etc. Therefore, there is a requirement for tolerance of one missed wage deposit (the AM2038 metric).
2. Confirmed and Inferred Gambling
Metrics: AM2005, AM2015
The confirmed gambling metric, AM2005, categorises the transactions that have taken place at confirmed gambling establishments (casinos etc). The inferred gambling metric, AM2015, uses smart transaction logic to determine other potential avenues of gambling. Credfin identifies cash withdrawals which match a predescribed pattern of withdrawals to be identified as funds which are being used for gambling.
3. Loan Repayments Indicators
Metrics: AM2116, AM2119, AM2122, AM2022, AM2055, AM2056
With the metrics AM2116, AM2119 and AM2122, a vendor can account for actual loan expenditure based on sighted loan repayments. Alternatively, through metrics AM2022, AM2055
and AM2056, a vendor can infer estimated loan repayments, calculating a weekly loan repayment based on the loan deposit amount, which gives an estimate on the repayment amount for a new loan deposit.
4. Loan and Credit Card Repayment Analysis
Metrics: AM2053, AM2130
The metrics AM2053 and AM2130 use smart logic to determine missed scheduled repayments on all of the client's accounts and therefore are able to provide an accurate insight into the
client's financial commitments and payment history.
5. Determining Financial Stress
Metrics: AM2082, AM2083, AM2085, AM2089, AM2049, AM2066, AM2069, AM2052, AM2007, AM2134, AM2063, AM2064, AM2091, AM2092
Credfin's risk metrics (AM2082, AM2083, AM2085, AM2089, AM2049, AM2066, AM2069, AM2052, AM2007, AM2134, AM2063, AM2064, AM2091, AM2092) can determine whether a
client is under financial stress. To do so, the vendor can set tolerance ranges based on statistical information, such as decrease in income, increases in dishonour rates, withdrawing a high percentage of funds on the same day as the income, etc. Credfin's extensive risk metrics
help vendors understand their client's financial situation on a deeper level