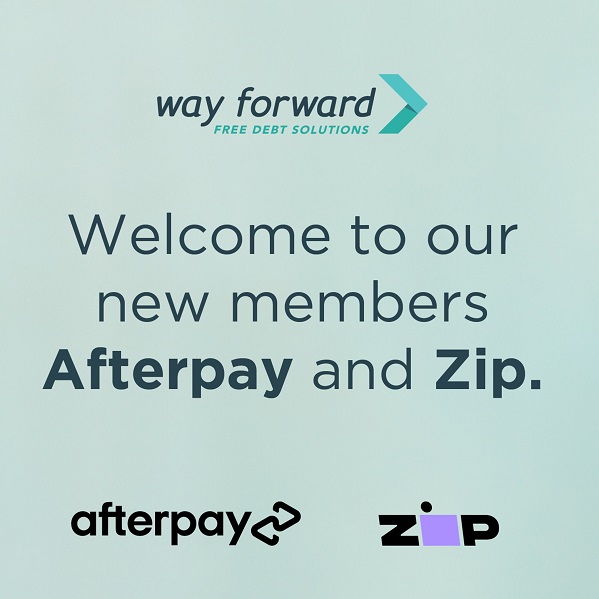 Zip & Afterpay take stance on financial hardship by becoming first BNPL members of Way Forward
Today Australian debt solutions charity Way Forward added two of the world's biggest BNPL companies as members, Zip and Afterpay. This announcement marks another step towards better cooperation across traditional banks as well as the fintechs to offer solutions to support Australians struggling with unmanageable complex debt.
For Zip and Afterpay, the membership means closer cooperation with Way Forward to refer relevant customers to its free service & working towards a holistic, cross-lender approach to tackling an individual's debt; for the person in debt, this means a huge weight off their shoulders to have one payment paid to Way Forward that is then spread across their creditors in a manageable way.
Zip Co Australia's Chief Operating Officer Chris Patrick noted, "We want to ensure we support all our customers, especially those doing it tough. Becoming a Way Forward member is one step to help us achieve that goal. While we offer financial hardship assistance programs to a small number of customers each month, we also recognise that often people need help with a number of debts and independent advice. That's where Way Forward can play a significant role in helping people get back on track."
Way Forward CEO David Berry commented, "The BNPL revolution has completely changed how millions of Aussies pay and think about budgeting. But this dizzyingly rapid pace of change means education and industry cooperation must continue."
"At Way Forward, we help more than 600 Australians reach long-term, dignified pathways towards a debt-free life. Looking at our data, we expect client numbers, amount of debt and creditors to continue to rise as we open up our economy. During this time, industry cooperation across traditional institutions and fintech innovators like Afterpay will become more important than ever."
Afterpay Co-Founder and Co-CEO Anthony Eisen added, "The Afterpay story has always been about disrupting traditional finance for the benefit of customers and helping them find a new way to pay. We're proud of the responsible spending rules and consumer protections that are built into our service. The average purchase on Afterpay is around $150, and the average amount that customers have outstanding is around $200."
"For customers who do need additional support, Afterpay offers a generous and accessible hardship program where flexible payment timelines with no additional fees or cost can be agreed upon. Furthermore, Afterpay does not rely on customers to drive revenue, as most of our revenue comes from merchants."
"We take our commitment to supporting customers seriously and partnering with Way Forward is another important step in providing additional assistance to the customers who need it. Financial hardship is complex, stressful and unique to every individual's circumstance so working with their team of hardship advocates will truly complement the services we already offer to our Australian customers," Eisen added.
Way Forward CEO David Berry continued, "We encourage other BNPL companies to follow suit and start membership discussions with us to better support Australians struggling to pay their bills."