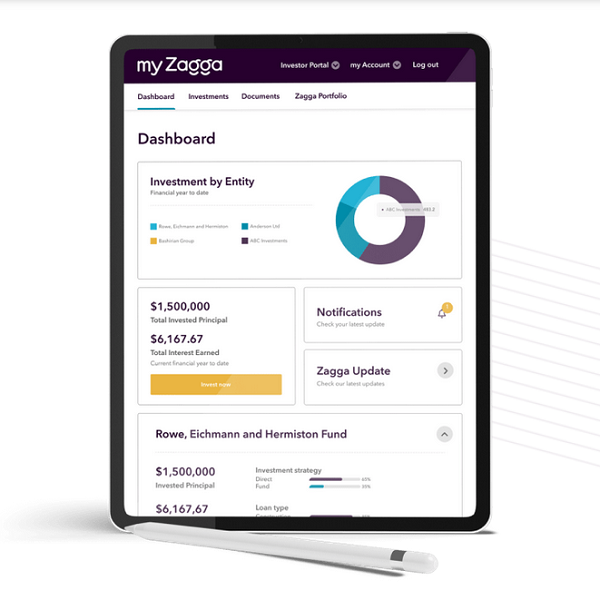 Zagga launches the Zagga CRED Fund, offering another alternative for advisors
Boutique investment manager and non-bank lender Zagga has announced the launch of its inaugural unitised private debt fund, the Zagga CRED Fund (ZCF). This Fund presents a compelling alternative for financial advisors aiming to increase their clients' allocation to private debt in the current inflationary climate, given the asset class's discernible returns and its ability to serve as a robust hedge against rising interest rates. The minimum investment for wholesale investors interested in participating is $50,000.
The Fund represents a pivotal addition to Zagga's suite of offerings, catering to investors increasingly seeking stable and determinable income-generating, capital preservation and portfolio diversification opportunities, which they are struggling to find via traditional channels. The Fund will strategically deploy capital into a meticulously curated portfolio of credit-vetted, mortgage-secured loans within the commercial real estate sector.
Alan Greenstein, CEO of Zagga said, "Since our inaugural loan investment in 2017, we have convincingly demonstrated to our investors the value of incorporating CRED investments into their portfolios. These investments represent an alternative, non-corelated option – a middle ground, so to speak – to conventional equity markets. They can be a solid hedge against inflation. They deliver determinable, consistent cash returns that surpass, sometimes materially, the interest rates offered by traditional bank deposits, without a commensurate increase in risk.
"Our commitment to this alternative investment approach has been confirmed by its increasing inclusion in many investment portfolios -often as the cornerstone of a defensive investment strategy, and the burgeoning popularity of the CRED-sector – both for investors seeking returns and borrowers seeking an alternative funding source to traditional banks," Greenstein added.
In December 2022, Zagga achieved a significant milestone by surpassing $1 billion in originations, marking an impressive growth rate of over 40% compared against the previous year, while continuing to see increases in both borrower demand for non-bank lending and investor appetite for commercial real estate debt.
In the six years since inception, Zagga has maintained average investor returns of over 8% per annum, and has grown its investor base to over 500, including Japan's Crowdbank and FIIG Securities with whom it launched its first Corporate Note issue, in November 2021, demonstrating Zagga's ability to conform to 'securitisation'-type protocols.
In a recent White Paper issued by Zagga, the group astutely observed that in the context of the prevailing inflationary conditions, CRED stands out as an increasingly favoured avenue for providing investors with opportunities to capitalise on its non-correlated risk and return profile. The introduction of the Zagga's unitised fund underscores the growing appetite among financial advisors and wholesale investors for fixed-income investment alternatives.