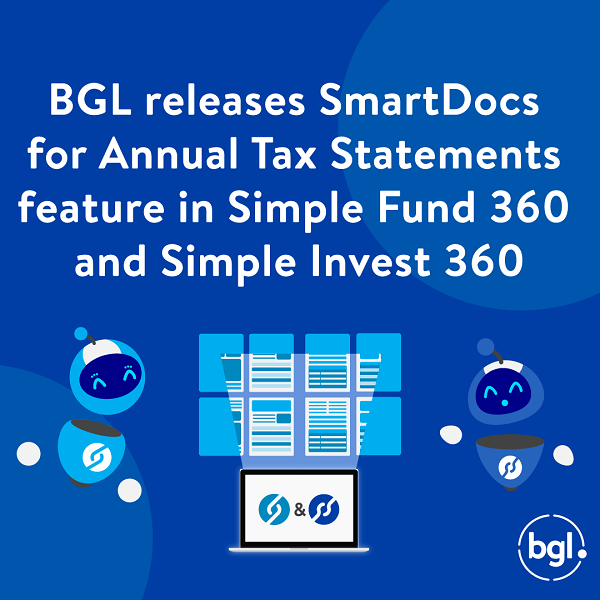 BGL releases world first Annual Tax Statement automation
BGL Corporate Solutions has announced the release of Annual Tax Statement automation using BGL SmartDocs in Simple Fund 360 and Simple Invest 360.
BGL SmartDocs is a multi-award-winning, AI-powered paper-to-data solution fully integrated with BGL's SMSF administration and investment management software, Simple Fund 360 and Simple Invest 360.
"This release is a huge achievement by our Big Data, Simple Fund 360 and Simple Invest 360 Product Teams and I'm extremely proud of everyone involved," said Ron Lesh, BGL's Managing Director. "This amazing new feature will free up valuable time for our Simple Fund 360 and Simple Invest 360 clients by eliminating the need for manual data input or the hassle of deciphering tax statements from Managed Funds, ETFs and Trusts."
"BGL clients can simply upload or email Annual Tax Statements (image or PDF files) directly to their Simple Fund 360 or Simple Invest 360 software," continued Lesh. "The built-in BGL SmartDocs feature will read the statement, extract the data and calculate the distribution tax components pre-filling the relevant fields in Simple Fund 360 or Simple Invest 360. The BGL SmartDocs feature displays the statement alongside the calculations providing a simple reconciliation process."
Jeevan Tokhi, Head of Simple Fund 360 at BGL, said, "BGL continues to innovate and remove manual data entry for clients. In 2019, we released a tool that automated tax data processing by calculating the amount of each tax component and applying this to distributions received during the year. We extended in 2021 by automatically creating year-end accrual transactions and warnings in our built-in workpapers. Now, we have the incredible feature of extracting the tax components from the Annual Tax Statement PDF. This release is yet another step forward in the evolution of our zero-touch technology."
BGL SmartDocs is currently reading two million pages per month and loading the extracted data into Simple Fund 360 and Simple Invest 360.