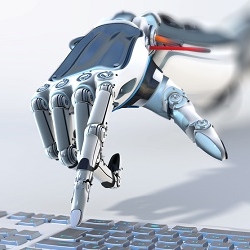 We need plans for when robots are in driver's seat
Financial services companies, including technology-oriented fintech start-ups, are emerging to challenge the roles of banks and the large financial institutions. Fintechs are rapidly transforming and disrupting the marketplace by providing digital or "robo-advice" using highly sophisticated algorithms operating on mobile and web-based environments.

Last month, the Minister for Revenue and Financial Services, Kelly O'Dwyer, announced the Turnbull government's intention to introduce professional standards legislation to set higher competence and ethical standards for human financial advisers — a move that is already under pressure from the robo environment.

While the financial advice sector has expanded and matured over the past two decades, fuelled in part by new technologies, the regulatory framework has taken time to catch up.

However, the rapid pace of ICT development — with A.T. Kearney predicting robo-advisers in the US will manage investment assets worth $2 trillion by 2020 — makes it critical that we plan for a world where technology is in the driver's seat.

Indeed, Sam Sicilia, the chief investment officer of industry superannuation fund Hostplus, has even suggested that artificial intelligence (AI) will make human financial advisers redundant within the next 10 years. Policy decisions might influence that outcome, but as learning machines become smarter, their ability to undertake a wider range of functions will only increase.

So, where is the dividing line between human financial advisers and robo-advisers?

In March this year, ASIC canvassed the financial services industry on how robo-advisers should be regulated, consulting with stakeholders about the practicality of requiring expertise to explain the scope, design, rules and risks behind the algorithms used to provide financial advice.

Then in August, ASIC laid down guidelines for monitoring and testing algorithms. The regulatory guidance also requires businesses carrying out robo-advice to have people within the business who understand the "rationale, risk and rules" used by the algorithms and have the skills to review the resulting robo-advice.

The ASIC position does not go as far as the one adopted by the EU, which provides an explicit "right to explain" and "right to challenge" on decisions made by algorithms. Nor does the ASIC guidance place an explicit onus on the algorithmic provider to explain, in simple terms, the logic behind an algorithmic decision. This might be intentional since algorithms may involve highly complex code and technical considerations well beyond the skill set expected from an average financial services adviser.

In addition, the logic behind an algorithm can include confidential trade secrets and other legal concerns, with a forced disclosure potentially risking a fintech start-up's competitive advantage and trade secrets.
To read more, please click on the link below…
Source: We need plans for when robots are in driver's seat – The Australian