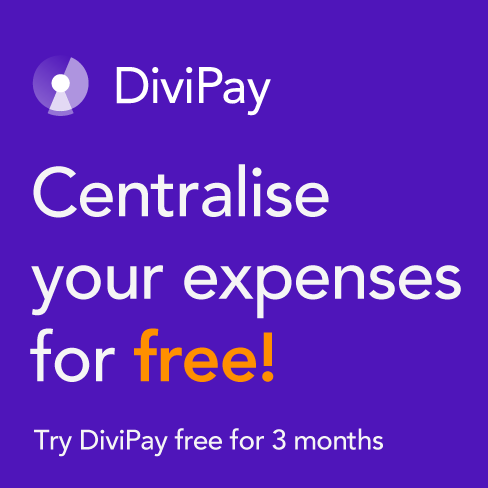 Take control of your company spending with DiviPay
Getting in complete control of your company spending can be hard work, but DiviPay's centralised expense management platform removes the hurdles to streamlined spending while putting you back in control.
Over 900 Australian fast growing businesses use DiviPay to:
Issue unlimited smart corporate cards to their teams, allowing them to do their best work.
Control spending before it happens with budget rules for each team or department.
Automate expense reports, saving up to 90% of the admin time for both employees and their finance team.
Integrate with leading accounting software (including Xero, MYOB and QuickBooks) and sync expense data instantly
Extract, code, approve & pay bills from one place.
Manage recurring payments with unique virtual cards locked to each subscription.
It's time to say goodbye to expense reports, chasing receipts and fiddling with reimbursements. Try DiviPay for Free today.
DiviPay is offering Australian FinTech readers 3 months free access to the entire platform for FREE.
If you are still unsure whether you need an all-in-one spend management system for your business, keep reading.
4 signs you might have lost control of company spending:
Little oversight and reporting: Do you struggle to get a complete view of who's making purchases and what they are for? With a basic credit card bill, you have very little to find out the details of costs or their cost area. Making sense of transactions can be time consuming and with little reward.
You're spending too much time on expense management: How much time are you and your team spending on submitting expense reports, reconciling transactions and attributing to cost centres? If it's more than 20 minutes a week, it's too long.
You and your team are fed up with reimbursements: Are your employees constantly out-of-pocket from making business purchases with personal funds? Are incomplete expense reports preventing you from paying them back? In these difficult times, it's even more important that your team isn't waiting on reimbursements to be paid back.
The one corporate credit card you do have is poorly managed. If you're lucky enough to have a corporate credit card, how many people have the credit card number written down somewhere? How many subscriptions are attached to that one card? Sharing of credit cards leads to a lack of visibility and creates a fraud risk.