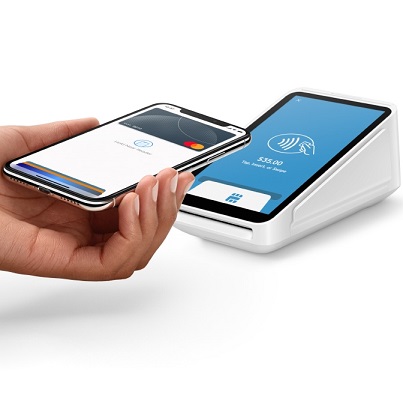 Square introduces sleek new hardware to replace outdated bank terminals
Square CEO Jack Dorsey is in Melbourne to announce his payments company is expanding its hardware portfolio in Australia with Square Terminal—an easily accessible all-in-one payments processing device designed to be fast, secure and elegant.
Australian businesses will no longer have to worry about making appointments at the bank, sitting through meetings and signing long-term, lock-in contracts. Square Terminal will be the first all-in-one payments device commercially available in Australia for business owners to buy outright and start taking payments on their own terms.
Businesses of all types and sizes—from full-service restaurants to hair salons and dry cleaners—will be able to take sales and print receipts right from a beautifully custom-built hardware device that will complement the aesthetics of any store interior.
"In 2016 we started helping the smallest Australian businesses accept card payments easily with our original Square card reader, and we didn't stop there," said Mr. Dorsey. "We're growing with our sellers, introducing new hardware that is still easy to access and quick to set up, but is also designed specifically to give bigger and more complex businesses better options when it comes to choosing a payments platform."
With the continued decline of cash, consumer expectations for fast contactless transactions and increasing pressure on in-store aesthetics, Square's new device is catering to the business owners that are looking to move away from legacy machines in favour of cloud-based software and design-focussed hardware.
"Businesses are ditching clunky payment machines and legacy technology because they want fast, secure and intuitive hardware that looks professional on their countertops," said Square's Head of Hardware, Jesse Dorogusker. "Square Terminal is the answer. It's a powerful device that incorporates elegant hardware with the Square payments service that businesses love—and it's easy for them to buy and set up on their own terms."
Built in-house, Square Terminal has a unique and simple design that also covers businesses for data security, dispute management and fraud prevention. Additionally, businesses will receive 24/7 phone support, a one-year warranty and the ability to try the device risk-free for 30 days.
Henry Lee Barbershop in Melbourne's trendy Collingwood district has been using the new Square Terminal since July as part of an early trial in Australia. "Square Terminal does exactly what we need it to do and it looks much cooler and more professional than other machines we've used in the past," said Lily Peddle, owner of Henry Lee. "The other Square services that we love to use, like team management and data reporting, sync seamlessly with the device to help us run our business day to day."
From today Square Terminal is available online at square.com or exclusively through Officeworks stores. The device retails for $439 (incl. GST) with one flat transaction rate of 1.6% for all card types.