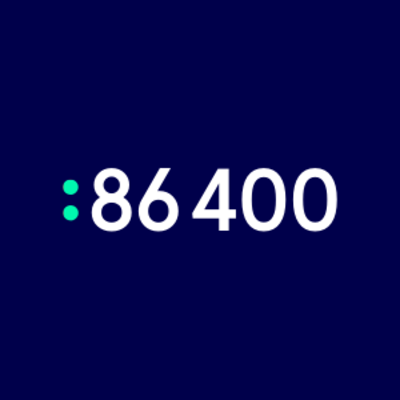 Smartbank 86 400 launches in Australia
Australians are today waking up to a smarter way to bank – as smartbank 86 400 (www.86400.com.au) becomes available nationwide.
Specifically built so customers can bank directly from their smartphones, 86 400 today launches with two accounts (Pay and Save), $0 monthly fees and a great interest rate, plus a string of smart features to help Australians take control of their money.
Customers don't even have to switch bank accounts to use the 86 400 app, with the technology allowing users to connect and view their existing bank accounts – plus credit cards and home loans – all within the app.
86 400 is doing things differently:
Easy sign-up – Enabling customers to open an account in just 120 seconds (less time than it takes to make a cup of coffee) and start using their account instantly.
Total visibility – Showing customers all their bank accounts in one place (not just 86 400 ones), so they can see their full financial picture.
Products designed for fairness – Actively helping customers earn their full variable interest rate (currently 2.50%) each month, through smart alerts.
Look forward, as well as back – Alerting customers to upcoming bills, subscriptions and direct debits, so they never get stung by nasty late fees again.
86 400 launches on the same day that a study reveals Aussies are spending $2.7 billion each year on unused subscriptions – the equivalent of almost $500 per person – and being charged nearly $1 billion in late fees over the same period*.
Commenting, 86 400 CEO, Robert Bell, said: "Managing your money shouldn't be so hard, but the simple fact is that staying on top of your finances has become too complex, leaving many Australians feeling anxious, stressed and frustrated. Today, we've launched a bank which uses smart technology to show customers what's actually going on with their money, so they feel in control every second of every day. All eighty-six four hundred of them."
Banking smarts
86 400's smart technology keeps customers ahead when it comes to spending, saving, and bill payments, providing personalised nudges to help them avoid late fees or unnecessary charges. The 86 400 app includes a simple, easy-to-understand dashboard, which:
Tracks customer savings and spending across all their financial accounts (from over 150 different financial institutions), including credit cards.
Clearly displays money coming in versus money going out each month.
And provides customers with simple actions they can take to better manage their money, such as providing nudges about upcoming bills, subscriptions and direct debits.
Saving with 86 400
Like all 86 400 products, the Save account is also designed to help customers out, not catch them out:
Anyone saving with 86 400 will get a great interest rate of 2.50% p.a, currently made up of a base rate of 0.40% p.a. and a bonus rate of 2.10% p.a. paid on Save account balance up to $100k, which 86 400 will actively help them reach by giving customers a bonus interest nudge (no kidding).
To get the full variable rate, currently 2.50% p.a., customers just need to put $1,000 into either of their 86 400 accounts each month.
Once they've met the minimum deposit amount per month to achieve the bonus interest, customers are free to withdraw their money whenever they want, without affecting the bonus rate they have earned.
Paying with 86 400
The 86 400 Pay account has no monthly fees and provides access to Apple Pay, Google PayTM and Samsung Pay, as well as Fitbit Pay and Garmin Pay.
And of course, 86 400 also offers all the usual stuff expected from a bank, like:
A good-looking (day aqua) Visa Debit card.
Fee-free withdrawals from over 10,000 ATMs nationwide.
Instant payments via Osko.
And support from a helpful Australia-based call centre.
86 400 is free from legacy technology, has the most advanced security and is also backed, like all other Australian banks, by the Federal Government's Financial Claims Scheme up to $250,000 per customer.
What's next? 
As well as shaking up spending and saving, 86 400 will soon launch a competitive home loan offering, which takes the same smart approach as its Pay and Save accounts. This will be available through brokers in the coming months.