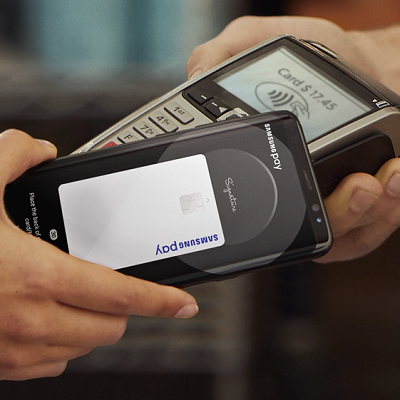 Samsung Pay streamlines checkout experience with new solution
Samsung Electronics Australia has launched a new feature that allows Samsung Pay users to provide payment verification for high-value transactions directly from their mobile device. The Consumer Device Cardholder Verification Method (CDCVM) solution removes the need to touch a merchant Point Of Sale (POS) terminal, speeding up the payment process and helping to make the process more hygienic.
Historically, for traditional, high value Samsung Pay mobile payments (typically more than $100, although this limit has recently been raised to $200 for some merchants), shoppers have been required to physically touch the POS terminal and enter their PIN number in order to authenticate the purchase.  With the CDCVM solution, Samsung Pay users can authenticate high-value transactions directly from their mobile devices by using their fingerprint, PIN or iris.
CDCVM contactless payment is now available to Samsung Pay users following a software update. It is available for Visa, MasterCard, and American Express cardholders*.
"The launch of Samsung's new CDCVM solution is the result of our ongoing investment in offering our Australian customers with the best possible digital wallet experience," said Mark Hodgson, Head of Services at Samsung Australia. "CDCVM provides users with a payment experience which is both convenient and secure, and faster at the checkout."   
"As more Australians tap their phones and watches to pay, Visa works to ensure these technologies not only meet, but exceed, expectations of security and convenience. Partnering with Samsung Pay to enable CDCVM is another way we're delivering on this promise, making for a richer, more relevant consumer experience," said Axel Boye-Moller, Visa's Head of Product for Australia, New Zealand and South Pacific.
Samsung Pay is a multi-purpose digital wallet with a range of features.  It allows for NFC contactless payments to be made by over 70 card brands; payments can be made both on a mobile device and on a wearable; users can load their barcoded loyalty cards to capture their points at the point of sale; in addition, users can make transit payments on the NSW Transport Opal system without unlocking their phones.
---
*Whilst Samsung Pay supports CDCVM, it must also be supported by the card issuer, the card network and the POS terminal in store. If not all parties support CDCVM, then the user will be asked to input their PIN into the merchant POS in the usual manner. 
Note that, for users paying with a Visa card, their cards have been automatically updated with the CDCVM solution.  For users paying with a Mastercard and who loaded their card onto Samsung Pay before Tuesday 21 July, these users will need to delete and re-load their card in order for CDCVM to work.