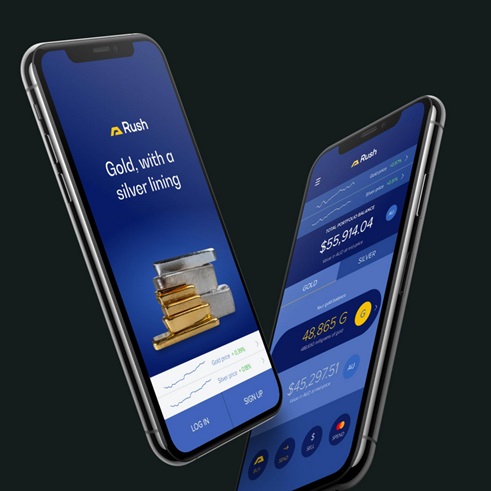 Rush Gold expands precious metal offering
SILVER – INVESTMENT OPPORTUNITY IN THE GREEN ECONOMY
Precious metals have emerged as a robust investment option for Australians seeking to fortify their portfolios against economic uncertainty and shifting global conditions. Investors are increasingly conscious of the sustainability of their investment choices, aiming to ensure their funds are allocated responsibly.
Rush, a leading precious metals investment platform renowned for its innovative technology, has built upon its legacy in gold bullion and now introduces the silver bullion market to its global clientele, enabling them to diversify their portfolios.
Co-founder and Director Jodi Stanton said, "Our customers have consistently voiced their interest in adding silver to our multi-asset platform. Silver's prominence in the investment landscape is growing, driven by its relative scarcity amidst rising demand. We believe its pivotal role in sustainable manufacturing, coupled with the expansion of renewable technologies such as solar, electric vehicles, large-scale batteries, and industrial and medical applications, positions silver as an undervalued asset today. We're thrilled to provide this opportunity to our clients."
Co-founder and Director Mark Pey further emphasised, "Silver, as a finite and precious metal, serves multiple vital purposes in various industries, often being consumed upon usage. Its limited supply and modest trading volumes make it appealing as a promising investment. Silver offers a secure, real-world alternative for those looking to diversify their investment portfolios and seize opportunities for the coming decades. We are allowing our clients to have direct ownership of investment-grade silver."
Why is silver an exciting investment proposition?
Crucial for renewable technologies: Silver plays a vital role in meeting the surging demand.
Solar industry growth: Solar manufacturers are projected to require over 20% of the world's annual silver supply by 2027 and approximately 85-90% by 2050.
Versatile use: Silver finds extensive application in medical and technology sectors, including the solar and automotive industries. These industries, such as electronics, electric vehicles, solar panels, batteries, and medical equipment, depend on silver for sustainable product development.
Shift to electric vehicles: The transition away from fossil fuels will drive silver demand, with global electric car sales nearly doubling from 2021 to 2022, reaching 6.75 million units on the road.
Supply and demand dynamics: Silver supply has remained stagnant over the past two years while demand has surged. In 2022, silver demand reached 1,242.2 million ounces.
Key demand sectors: The three most significant sectors demanding silver are Industry (44%, including solar PV cells and electric vehicles), Physical Investment (26%, up by 20% in 2022), and Jewelry and Silverware for personal use (26%, up by 38% in 2022).