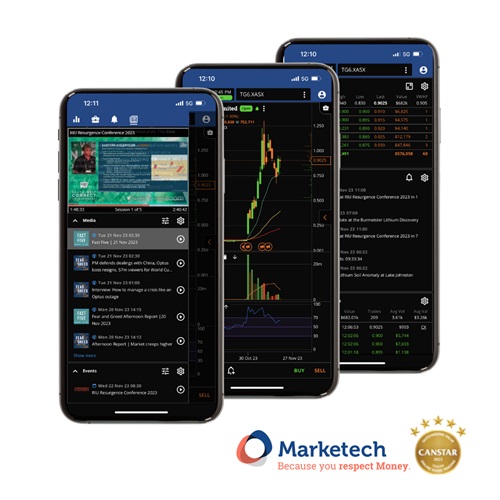 Revolutionising the Investor Experience: Marketech's High-Function Data and Trading Platform unveils Audio and Video Content Curation
Marketech, a leading tech-driven market-data and trading platform developer, have announced the launch of an innovative audio/video content distribution and curation feature built into their market-leading platform, Focus, setting a new standard for serious investors seeking top-tier Australian stock market information, analysis and trading functionality.
Already recognised with a prestigious Canstar award, their Focus platform has proven its credentials next to global giants and is fast establishing itself as the new go-to platform for active traders – a high-value, underserviced demographic within the Australian share trading landscape.
Despite the challenging market environment (in which trading volume for the majority of online share trading platforms is declining), and limited promotion, Marketech's Focus has continued to gain market share, fuelled by a high-functioning and intuitive platform interface, and a business model that connects services from various best-in-breed companies, such as Refinitiv, Bridgewise, Openmarkets, Macquarie, Leveraged Equities, Sharesight and Marcus Today.
This latest Marketech Focus functionality upgrade will allow third-party, market-related, content-creators to embed their audio and video streaming content into the Focus platform. This function aims to connect the creators with a wider targeted, captive audience, whilst assisting Focus users to consume vast amounts of market-related information, all in the one place.
Focus users will be able to curate their own market-media content – starting with Australia's No. 1 business podcasts from the team at 'Fear & Greed', as well as investor seminars and conferences from RIU and Vertical events – starting with the RIU Resurgence Conference on 22/23 November being live-streamed and linked directly to the market-data within the Focus platform. Using mobile alerts, each user can stay informed of any new media content that may be of interest to them.
Whilst this functionality will be available free for broad consumption on the FocusLite platform, it also directly connects content-creators with the coveted serious/active investor demographic that the FocusPlus and FocusPro subscriptions attract. By allowing content creators to distribute and enhance their content through the Focus platform, Marketech anticipates content creators will achieve an increase in engagement and more permanent connection with audiences, and a mutually beneficial increase in exposure with each subsequent connected service.
By linking 'stock mentions' to their mobile alerts, users can stay informed about the ever-changing stock market landscape, whilst strengthening the relationship between the content creators and their audience, and leading to a more informed share market overall.
Recognising that the share trading experience not just trading, but the conversion of understandable data and user-curated information, by providing a single platform for market-related services to congregate, Marketech aims for Focus to become the destination for retail investors that wish to be kept fully informed.
Marketech Managing Director, Travis Clark, confirmed Marketech's commitment to innovation, saying, "It's our goal to redefine the investor experience, so stay tuned for more exciting developments as we continue to lead the way in development of high-function data, information, and trading platforms in Australia."