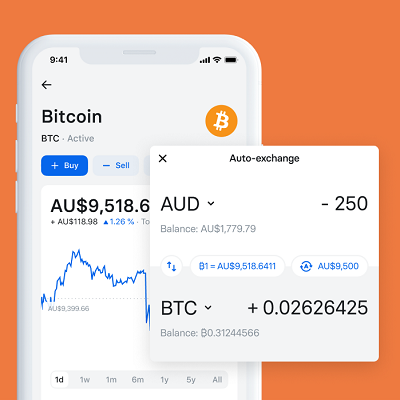 Revolut launches Australian cryptocurrency exchange
Today, Revolut has launched its cryptocurrency service in Australia, allowing customers to securely buy, hold and sell cryptocurrency in real time with the tap of a button. The feature, available through the Revolut app, allows customers to exchange up to 6 different cryptocurrencies including Bitcoin (BTC), Ethereum (ETH), Litecoin (LTC), Bitcoin Cash (BCH), Ripple (XRP), and Stellar (XLM).
The exchange process easily allows customers to convert Australian Dollars – or 26 other global currencies – into cryptocurrencies via the app. Customers receive real-time notifications alerting them to shifts in a coin's price and can immediately sell their cryptocurrency safely and securely, cashing out instantly and in real time.
Revolut customers can also seamlessly transfer their cryptocurrency to other Revolut customers, or round-up their everyday card payments to the nearest dollar to automatically convert their spare change into cryptocurrency.
Matt Baxby, CEO of Revolut Australia, says the service makes cryptocurrencies more accessible for Australian consumers: "We're very excited to be adding another feature to our Financial SuperApp with the introduction of our cryptocurrency exchange services. Buying and selling cryptocurrencies can be incredibly complicated and confusing for the uninitiated, which means many Australians don't know how to access cryptocurrency as an investment option.
"Because of this, people feel like they need to be an expert to even consider buying cryptocurrencies.
We're cutting out that complexity – with Revolut anyone can easily set up an account in minutes and start buying and selling digital currencies instantly, alongside all our other great features."
Edward Cooper, Head of Crypto at Revolut, says the service has a lot of advantages to the traditional ways of buying digital currencies: "Traditional crypto brokers are known to charge a number of hidden costs, such as deposit and exit fees. With Revolut, we transparently display the exchange rate at the point of exchange, and there are no hidden fees.
"By making cryptocurrencies easier to access for everyone, we're trying to do what the internet browser did for the internet," Cooper says.
The release of the cryptocurrency feature comes shortly after Revolut's public launch in Australia earlier this month and is part of the business' plan to rapidly introduce a suite of new features to the Australian market.
In Europe, over 6,000 Revolut cryptocurrency accounts are activated per day, with over 1 million users now using the feature.
The service is currently available for Australian customers of Revolut's Metal plan, who receive first access to new features. The feature will be coming soon to Revolut's Standard and Premium customers in Australia.
Download Revolut from the App Store or the Google Play Store.