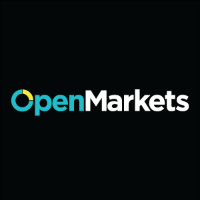 OpenMarkets adopts Bloomberg EMSX for Global Equity Liquidity and Execution Services
Digital brokerage platform OpenMarkets has taken a crucial step to open up its platform to overseas investors after integrating with Bloomberg's global multi-asset trading platform, Execution Management System (EMSX).
The agreement with Bloomberg, announced today by OpenMarkets Chief Executive Officer Mr Andrea Marani, will provide OpenMarkets access to the largest community of buy-side traders and portfolio managers in the world, allowing EMSX users globally to direct ASX equity orders to OpenMarkets and receive live order feedback directly at their terminal.
Bloomberg EMSX is an institutional-grade platform used widely in Australia and around the world by investment managers, hedge funds, investment banks and brokers. There are now more than 6,500 broker destinations worldwide on EMSX helping traders and portfolio managers discover liquidity and run broker analytics to determine best execution and trading performance.
Mr Marani says the integration with the Bloomberg EMSX is an essential step in providing liquidity access for overseas investors looking to trade in the Australian equity market.
"This integration with EMSX will allow overseas brokers and traders to monitor and track their orders in real time and benefit from OpenMarkets' low-cost, best-execution brokerage services.
"It also opens the door to a range of institutional trading business in Australia for OpenMarkets, as well as global brokers wanting access to the Australian equity markets – a natural next step in our strategy of attracting a broader range of financial intermediary clients.
The integration between OpenMarkets and Bloomberg is made possible via FIX © connectivity.  FIX (Financial Information exchange) is a global industry protocol for the real-time exchange of information relating to securities transactions and markets.
OpenMarkets is a digital brokerage platform renowned for its connectivity network and integration capabilities with a range of third parties. It is connected to the IRESS platforms and provides integrated execution services to a range of fintech trading platforms such as SelfWealth, Acorns and Six Park, as well as providing data feeds to a range of reporting and administration platforms such as Class, Xplan and Praemium.
OpenMarkets' trading turnover exceeds $3.5 billion a month.