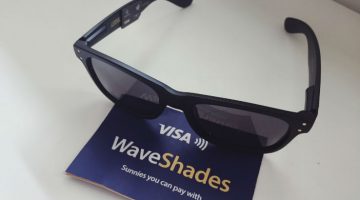 Never be caught short after this brainwave
Making a payment is now as easy as tapping your sunglasses thanks to a plucky Australian start-up, Sydney-based Inamo, which is starting to take the world by storm, appearing at South by Southwest in Texas and now embarking on a $6 million Series A funding round.

The start-up is the brainchild of Peter Colbert, a former agent for international surfing stars and still a keen surfer. He told The Australian the idea for the sunnies came after a regular surf in Manly with mates. It was his turn to buy coffees, but he had forgotten his wallet.

"It was one of those light bulb moments where I wondered what if you could put a wearable with payments on it," he said. "There's a global company called Oberthur Technologies, they're one of three global chip manufacturers, and I asked them 'is there a way we could put a chip into a silicon band and develop a wearable?' And they said 'yes'."

Mr Colbert worked with Oberthur on developing the Inamo Curl, a waterproof prepaid payment wearable that can be attached to watch and fitness bands and is compatible with Visa PayWave terminals. The chip used in the Inamo Curl is also embedded in the arm of Visa's WaveShades sunglasses unveiled at SXSW and first trialled at Australia's Laneway Festival earlier this year.

"It all started with a web inquiry from Visa Australia," Mr Colbert said. "They said 'we've committed to the Laneway Festival, and we don't know anyone else in Australia that could do this, could you do it? We want to give away sunglasses (as a promotion), but you've got to be able to make payments with it'."

In three weeks Mr Colbert and his team pulled together the WaveShades prototype and got the sunglasses out to five cities in what was a successful pilot.

"Thank god it worked," Mr Colbert said.

Inamo has raised a $1m seed round from former Telstra chairman and McDonald's Australia luminary Bob Mansfield, as well as venture capital outfits Tempus Partners and Investible. Mr Colbert is in talks with two Silicon Valley VC firms to raise $6m in a US push.
To read more, please click on the link below…
Source: Never be caught short after this brainwave – The Australian