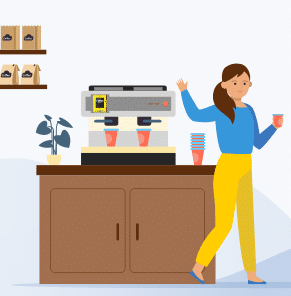 Nayax expands support to CCI Protocol 3.5 for Office Coffee Service industry
Nayax, a leading cashless solution provider, announce their support of the CCI communication protocol, version 3.5 for the OCS (Office Coffee Services) industry. This is now available with the use of VPOS Touch cashless readers on coffee machines. Customers taking advantage of this new capability enable the use of cashless payments without the need for an expensive MDB converter, making Nayax's cashless solution the most affordable on the market for manufacturers and customers for this market. The OCS industry includes the tabletop semi-automatic machines which have increased in popularity across Europe by 9% over the past decade, to capture 43% of the hot beverage machine base, according to the November 2020 EVA Vending Market Report.
Nayax's solution enables cashless payments via swipe, contact and the increasingly popular contactless transactions. This includes the leading credit cards and digital payment apps, as well as the most popular regional banking apps in individual countries. Nayax also supports payment with prepaid or employee cards, which is easily configured in the back-end management suite.
With Nayax's extensive support for payment options, including prepaid, employers can easily subsidize employee purchases, while letting additional visitors purchase via common bank cards and digital apps.
"The use of an OCS machine in a work-environment is nearly a requirement in all businesses but until now, the cost of including a cashless payment device was prohibitive for many. With Nayax's support for v. 3.5 CCI protocol, OCS manufacturers will be able to provide a cost-effective solution for their customers wanting to offer office employees and visitors the opportunity to purchase coffee in-house," says Yair Nechmad, CEO, Nayax. "Due to our own coffee habits, Nayax recognized the opportunity and need for implementing this protocol, and our in-house R&D team worked diligently to provide our customers with this solution."