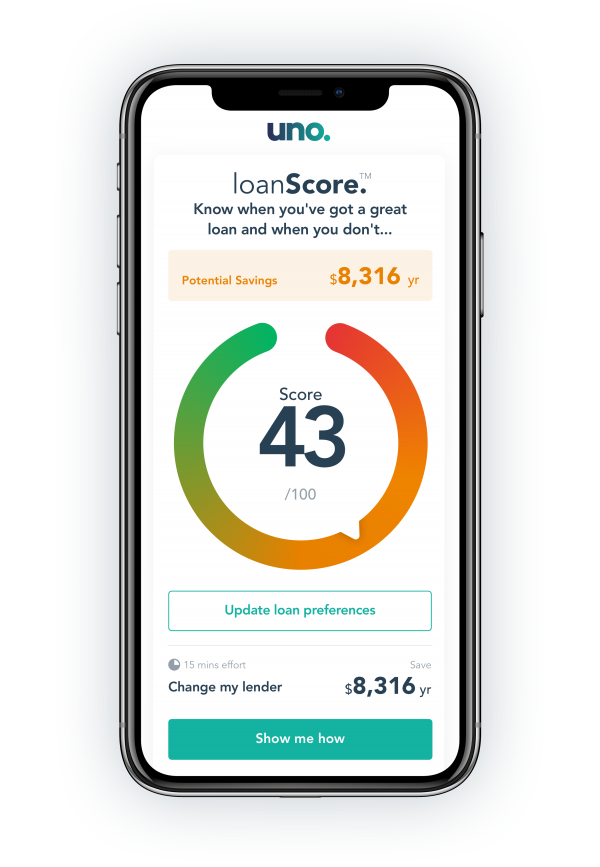 Know whether your bank is giving you a good home loan deal with uno's loanScore
Australians are in the dark on how their home loan deal stacks up with 53% not knowing their rate, 26% not confident they have the best deal, and 31% saying they never compare their loan to the market.
But fintech uno Home Loans is empowering customers to take back control with the launch of loanScore – a free monitoring tool that tells you how your loan compares to the market.
Every month, loanScore rates how the cost of your loan stacks up against thousands of real time deals and provides steps to improve your current loan, such as increasing repayment frequency.
uno Home Loans CEO Anthony Justice said, "Loyal customers overpay thousands of dollars by staying on the same deal for years and are often unaware there is a better option."
"LoanScore gives the power back to the customer by proactively letting them know each month whether or not they are on a good deal.
"Having this information, in the palm of their hand, helps customers move from "setting and forgetting" to actively managing their loan on an ongoing basis."
How does loanScore work?
LoanScore's algorithm monitors the market and rates your home loan against other deals.
Current loan & preferences
Customers sign up by providing their current loan details and nominating what is important to them in a loan such as lender type, structure, and optional features such as offset account, redraw facility, or extra repayments.
Monthly review
Each month, loanScore rates the customer's existing loan from 1-100 based on how the cost compares to other deals in market that fit their preferences.
The monthly update includes an estimate of the annual savings if the customer was to switch to their best value loan, and ways to improve their current loan – such as asking for a rate cut, changing repayment frequency, and making extra repayments. uno can work with the customer to improve their loan with their current lender at no charge.
Why is it unique?
Understanding how a loan stacks up puts responsibility on the customer to remember to compare their loan and to put in time and effort sifting through comparisons that are not 'apples for apples'.
LoanScore removes those barriers by contrasting more options than a human could and proactively providing a regular evaluation as to whether or not the customer has a good deal compared to the market.
Mr Justice added: "The most important thing is that customers know whether they are getting a good deal or not. Uno created loanScore to give Australians a quick and easy way to stay on top of this all the time."
For more information or to sign up to a monthly loanScore email, visit unoloanscore.com.au
Key research findings based on a CoreData study of 1,500 Australian mortgage holders:
53% of Australian mortgage holders do not know their current home loan interest rate

This number has jumped from 41% a year ago

26.3% are not confident they are still getting the best deal for their situation

31% never compare their deal to the market