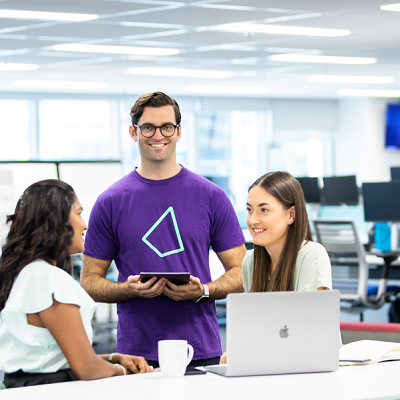 Iress turns to Dell Technologies to modernise its end-user computing environment
Last year, Iress, a leading technology provider for financial services organisations headquartered in Melbourne, choose Dell Workspace One to overhaul its end user management process.
With over 2,000 employees and 17 office locations across seven countries, Iress' software is used by more than 9,000 businesses and 500,000 users globally. Iress has a vision for its workplace technology to enable a globally consistent, collaboration-focused and remote-first workplace, with best-of-breed tools to enable employees to do their best work.
Due to Covid-19 and the swift move to remote working, end-user device management was becoming increasingly challenging for its Workplace Technology Team as more endpoint devices were roaming outside of corporate-controlled networks. In addition, policy controls were becoming challenging to maintain, as were staying up-to-date with security patches and grades, putting the company's valuable data was at risk.
Despite regular checks, the team were becoming less confident that they were remaining compliant and secure. They also wanted a solution with zero-touch provision, reducing the time spent on setting up new devices.
For the refresh, Iress identified important must-haves for the new solution:
consolidation of the tools they use to manage different environments, such as Windows, Mobile and Macs
enhanced security
device compliance reporting
a better employee onboarding experience
After a comprehensive review, Iress chose Dell Technologies and VMware to develop an end user modernisation plan aligning with its global strategy. For six months, the teams worked to create a unique solution for Iress, deploying a centralised cloud platform solution, Workspace One. By implementing best practice in zero trust security, unified endpoint management and drop ship provisioning, the new environment is modern, secure and intelligent, and provides a great end user experience that enables employees to work from anywhere.
Moving from on-premises to a cloud native platform improved operational efficiencies, simplified support and reduced costs and maintenance.
The result is an intelligent platform, an automated and secure onboarding experience for new employees with zero-touch provisioning that makes it easy to request IT support.  New devices are shipped from the Dell Technologies factory safely and securely, direct to the employee no matter where they are located, resulting in a great experience for both the employee and Iress' Workplace Technology Team.
Since upgrading the system, Iress' Workplace Technology Team has seen:
100% time savings as they no longer have to maintain and support servers in the data centre due to the platform being cloud native
Workplace Technology Team can save up to 3 hours of time on the setup of a new device
90% time reduction on restoring or re-deploying devices, which can now be done remotely through the platform
A better user experience as employees receive their new devices without having to come into the office, resulting in significant time savings for both the employee and the Workplace Technology Team
Greater visibility over devices allowing better management, compliancy and remediation
Application access is consolidated into one single location portal, which is much easier for employees to locate and access what they need, providing a great end user experience
70% time savings in reporting and pushing out Windows updates and security patches to Windows devices
100% time savings in managing and maintaining driver updates, firmware and BIOS upgrades on Windows devices.
"With Workspace One, our visibility across the environment allows us to see the status of a device in real time. The Workplace Technology Team can quickly see devices, manage them, and remotely support a device, all from one place, and no matter where the device is. It's changed the way we work with our employees by providing a truly seamless experience," said Paul Stead, Service Delivery Lead at Iress.
Aarron Quach, Unified Workspace Manager – APJ, Dell Technologies, added, "The Dell Technologies and VMware teams collaborated with Iress' Workplace Technology Team to define a modernisation roadmap to ensure a successful outcome for all parties. The team took into consideration of Iress' need for zero-trust security, dropship provisioning from Dell's factory, data loss prevention, increased cloud security and access to an 'anywhere workspace.' During the process we helped its Workplace Technology Team to streamline its processes as much as possible, saving time and reducing costs. The success of the digital workspace platform has ensured that Iress can maximise on their investments now and into the future."