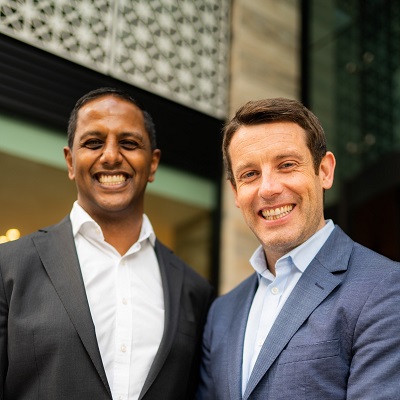 Ignition dominates the rising star and partnership categories at the global Banking Technology Awards
Ignition Advice has remarkably achieved three finalist places in the global Banking Technology Awards. The innovative partnership between Ignition Advice and Bank of Ireland has earned a place as a finalist in the global category of Best Fintech Partnership amongst an exciting field including Barclays Bank, Lloyds Bank and Santander.
Ignition monopolises the shortlist for the Rising Star category with Ignition leadership team members from around the world, CEO Manish Prasad and CEO Ireland Alan Quinlan both winning finalists honours. With just ten finalists worldwide, securing one fifth of the spots signals Ignition's people-first growth strategy.
Now in their twentieth year, the Banking Technology Awards are organised by London's FinTech Futures. The organisation states, "For software providers, a Banking Technology Award is a valuable recognition of the company's products and services, and an endorsement by the fintech community. For individuals and teams, a Banking Technology Award is a prized acknowledgment of the demonstrated skills, leadership, vision, inspiration and dedication to the industry's betterment.".
The Best Fintech Partnership category lauds the most remarkable partnerships happening in global banking today. The Ignition Advice, Bank of Ireland deal is a multi year, multi million dollar engagement, seen by both parties as a long term commitment to revolutionise the European digital banking experience. Named "Life Advice" Ignition's Bank of Ireland solution gives Bank of Ireland customers a single platform from which to manage their financial needs from day to day banking through to retirement planning.
Commenting on the partnership, Manish Prasad, Ignition Advice CEO, highlighted Ignition's global partnership strategy, saying, "Ignition Advice is particularly pleased to be shortlisted as a finalist for the Banking Technology Awards, Best Fintech Partnership category. This reinforces our vision and  strategy to form meaningful relationships with the world's top financial institutions. Bank of Ireland are a great partner for Ignition and we are delighted that together we have now launched live insurance and investment journeys, with a retirement journey to follow in 2020. The early results show Bank of Ireland customers are delighted with the new offerings."
Bank of Ireland's decision to work with Ignition was driven by Ignition's ability to partner in transforming the customer experience and ensuring that customers are supported to make the best possible financial decisions. Sean O'Murchu, Director of Wealth Advice and Distribution at Bank of Ireland said, "Bank of Ireland were actively looking in the market for a service provider who could support our growth ambitions in this market across all of our business channels and customer segments. There are many different types of providers in this market, from pure robo-advisers who are in essence execution only to software providers who can build your current processes to spec and update the look and feel of how your advisers interact with a customer. 
"Bank of Ireland is seeking to transform the customer experience by providing omni-channel services but also ensuring that our customers make the best financial decision they could at any given time. We believe this is the key to better financial outcomes for our customers that will improve their financial wellbeing. In our interactions with Ignition Advice we believed they were closest to us in terms of our desire to improve customer outcomes.".
Alan Quinlan, CEO Ignition Ireland notes that the Ignition, Bank of Ireland engagement has evolved and deepened. From a technology and abilities based relationship, the firms now enjoy a true partnership. He commented, "Initially our reasons to partner were all about the technology, the people and our ability to partner with a tier one bank. As we progressed through the proof of concept, we discovered a real alignment on a shared vision we had around how digital advice would evolve over time and the positive impact our platform could bring to our enterprise partners, end customers, advisers and regulators.".
The Banking Technology Awards Rising Star Category recognises individuals who are making a remarkable difference to the global world of fintech. Ignition fields a remarkable two finalists out of ten shortlisted globally.
Ignition Advice, CEO, Manish Prasad and Ignition Advice Ireland CEO Alan Quinlan both feature as finalists. This level of industry recognition highlights Ignition's success in attracting the world's finanist fintech innovators around the globe. With teams based in Sydney and Dublin, attracting leadership staff who are acknowledged as global rising stars speaks to the firm's commitment to lead from a capabilities and culture ethos.
Ignition Co-Founder and Executive Director Mark Fordree is rightly gratified by the recognition of the caliber of staff on the firm's leadership team, saying, "Ignition is extremely proud to have not one but two finalists in the global Banking Technology Awards category: Rising Star. This kind of recognition from the very best of our industry peers validates our company ethos of hiring the best to deliver the best. This ensures that the solutions serving our clients and customers are created with the innovative flair of the world's rising fintech stars.".
In 2018, Ignition Advice placed as a finalist in the category Best Use of IT in Private Banking / Wealth Management. This category recognises excellence and innovation in the use of IT in financial services worldwide, and the people who make it happen.
---
Photography credit: www.jamesmills.com.au