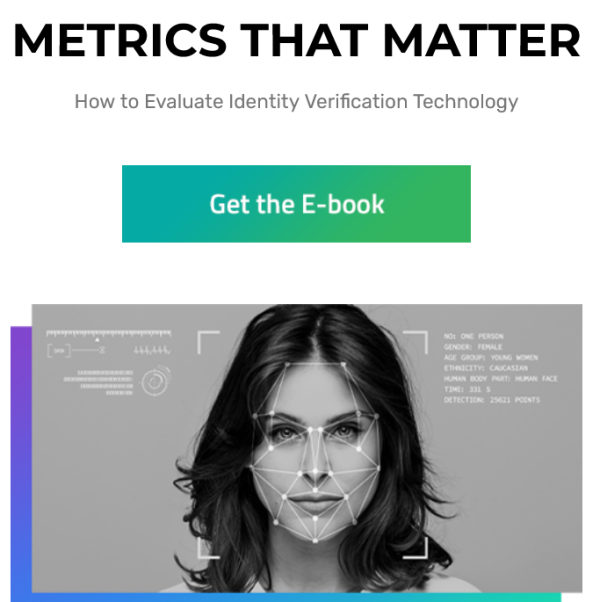 How to Evaluate Identity Verification Technology: Jumio
If you're confused by all the identity verification solutions on the market and how they're different, you're not alone. With everyone claiming to have the fastest and most accurate solution for helping you know and trust your customers, it can be hard to decide which one is really the best.
The technical jargon makes it even more challenging. Does your solution really need artificial intelligence? How is it different from machine learning? What is an algorithm, anyway?
In Jumio's e-book, Metrics That Matter, they explore all the angles you need to consider when evaluating identity verification solutions. This comprehensive guide covers the following topics.
Artificial Intelligence and Machine Learning Demystified
AI and ML, once considered cutting-edge technology, are now table stakes for an identity verification solution. The key is to ensure that the vendor has invested the proper resources into developing sophisticated algorithms and has trained them on the right data.
The Importance of Big Data
To maximize accuracy of your AI — and avoid bias — you must have a vast and diverse data set.
Understanding Accuracy Metrics
Accuracy measures how well your identity verification solution keeps bad actors off your platform and lets legitimate customers in. While this sounds simple, there are many ways to measure accuracy.
Orchestration of Risk Signals
Orchestration allows companies to provide a frictionless experience for their legitimate customers and increase scrutiny for higher-risk individuals. Learn how it can lead to higher conversions as well as higher fraud deterrence.
Liveness Detection
Deepfakes, bots and advanced spoofing attacks have made it imperative that you use liveness detection to ensure the person signing up for your service is the person on the ID and that they are physically present. But not all liveness detection is created equal.
Breadth and Depth of Supported IDs
If you only do business in a small region, you might not care that Jumio supports 5,000+ ID types in over 200 countries and territories. But most online businesses want to enable people all over the world to become customers. Find out which capabilities are essential.
Security is Paramount
No matter how sophisticated your algorithms are, if there are security holes that criminals can exploit, you can lose everything.
100% Automated…Or Is it?
While there are several 100% automated identity verification solutions on the market (including Jumio Go), there is no 100% automated identity verification process. The reason is that an automated solution can handle many types of transactions, but it cannot handle all of them. Find out the key question you should ask all identity verification providers before making your final decision.
Omnichannel Support
If you're only thinking about customers onboarding from an app on their phone, you're missing a big potential market.
To learn more about these topics and how Jumio solves onboarding challenges for organizations around the world, download the guide.