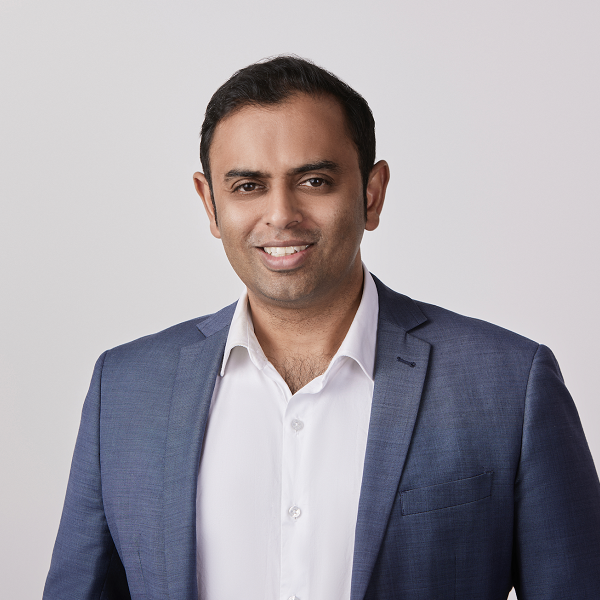 Future of Franchising: Experts reveal latest trends
In the fast-paced world of franchising, the future promises a blend of transformation and opportunity. Raghu Rajakumar (pictured), Founder and CEO of Eden Exchange, recently joined a panel of industry experts, including Kylee Valentine, Senior Partner in the Accounting and Tax division at Findex and Glenn Walford, Founder of Magnetic Business Media and Franchisebuyer.com.au
They sat down to unpack franchising's evolving landscape and offer key insights into what's on the horizon. From adapting to changing recruitment strategies to embracing technological platforms and having your financial house in order, here's a glimpse of the future of franchising.
Data-Driven Success
Valentine highlighted a pivotal element that is becoming increasingly critical for future franchising success: data. "The businesses that know their numbers are the ones that are doing better than the others," Valetine shared. "[Businesses] have a lot of financial data that they produce each week and each month, but it's just data until they do something with it.
"Having the ability to pull that information out of whatever accounting system you're using and turning it into something that helps you make proactive decisions as you go is key. You're making decisions that are based on the right information and not on gut feel alone."
There's been a notable shift in Australia's AU$172 billion franchising industry's mindset, moving away from a singular focus on franchise sales towards a growth mindset that places emphasis on innovation, integration of advanced systems and a deep understanding of the Australian market.
"Franchise owners, from the smallest to the most sophisticated, are now actively seeking education and solutions that can simplify operations, maximise profitability and foster a forward-thinking approach," Rajakumar explained.
Standardisation in Franchise Systems
Ensuring uniformity in financial reporting across different units within a franchise system emerged as a future trend. Standardised charts of accounts, for instance, were identified as vital tools for aligning financial data, simplifying comparisons and facilitating more informed decision-making.
Valentine said, "A standard chart of accounts is really important because it gives you that ability to start to bring one business in line with another when you're looking at that financial data. Otherwise, it really is too hard because there is so much that's open to interpretation.
"Additionally, putting expenses into categories, so you can micro-analyse every part and improve them can make a significant impact."
Recruitment in the Digital Age
Walford shed light on the future of franchise recruitment, underlining the timeless importance of effective communication. He says the challenges they experience often come down to a messaging issue. "It's funny. I've been talking to a number of franchisors in the room this morning about franchise recruitment issues, getting enough leads and converting enough leads. And I've said it before, but most brands – pretty much every brand – have more of a content problem than anything else," he shared.
"Are you getting your message across? Is your message resonating with the person you're trying to attract? This is pretty much the answer to just about every problem we have in the business. For the most part, that hasn't changed at all. Franchise business opportunity-centric messaging has always been the issue.
Franchisors must think about the most useful way to get more bang for their buck in terms of positioning. They need to do that in a way that is not cliche. Things like, being your own boss, working your own hours, working from anywhere … are all 'stock standard'. Being successful means becoming more creative in how you punch out to market.
As Walford pointed out, "Franchise recruiting is primarily about getting your key points together as to why that person should bother to have any interest in what you have to offer or what you're trying to sell them."
An effective way to get their attention and buy-in, he says, is with video. "Brands are now diverting and sending a lot of funds and resources to social [media channels] to generate leads there. But once again, you have that content issue," Walford said.
"The key to social media has been video. We've seen the explosion of TikTok-style content with Facebook and Instagram reels and shorter YouTube videos. There's so much happening in those spaces. That 30-second video is absolutely paramount."
Adaptation to Economic Climate
The current economic climate may lead franchisees to take longer to make purchase decisions. Therefore, it's an opportune moment to reassess systems and maximise every opportunity. It's a good time to get your house in order now. Think about some tactical, cost-effective ways to ensure you have a consistent level of inquiry qualified and coming through the system.
"It's also important to understand the demographics. The average age of the accounts that sign up on Eden Exchange every single day is 58 years old. And the average buyer is in their 40s – an obvious mismatch," Rajakumar added. "There's a cultural mismatch as well. In terms of the background of the inquirer that comes across in our system, more than half are 'non-mainstream' Australians. They come from different backgrounds. Whereas, the seller of the business tends to flip the other way – approximately, 75 per cent are second-generation Australians."
"To help support business buyers and sellers, we've begun working on integrations to our platform that allow for valuations. The financial market is extremely hard on timelines. Integrating a finance solution into the platform while you purchase is gold."
"Additionally, we're also working to replicate the platform on a global level. So if you have the ability to start recruiting in an overseas market with your platform or within systems, we're now building an economic system that allows us to go to markets that are growing rapidly."
"We are completely transforming the way prospective franchisees access finance solutions. Through integration with finance providers and a network of brokers and preferred providers, Eden Exchange is streamlining the financing process, making it more accessible for potential franchisees."
Mitigating Future Financial Risks
As the future unfolds, financial risks will remain a concern. Valentine emphasised that one of the biggest risks ahead is cash flow management. "Businesses must make sure that they're managing their cash flow and have an idea of how much they need and how much they have," Valentine said.
"The other part of that is, making sure they have accurate financial information when they're making decisions on acquiring new assets, new plant equipment or new people so that they're making decisions that are right for the business."
Valentine reaffirms the importance of knowing your numbers, advising businesses to enlist the help of professionals. "Use specialists to help with financial reporting," Valentine added. "Virtual CFOs, for example, are an affordable way to get expertise in your business without having to spend it on a full-time role. That way, you know how your business is going at all times. And when opportunities do present themselves, you're ready."
The Future of Franchising is Female 
A surge of women with growing purchasing power is now entering the historically, male-dominated franchising arena. This demographic shift presents exciting opportunities for franchisors to explore new markets and serve a more diverse customer base.
"However, for this change to take root and fully flourish, a mindset shift is also necessitated. Fairness must be infused into the franchising process, past concerns must be addressed and a mutually beneficial and commercially viable framework for both franchisors and franchisees has to be nurtured," Rajakumar added.
Migration Growth Fuels Regional Franchise Opportunity
Over the past 15 years, there has been a notable migration of people from capital cities to regional areas in Australia, according to the Regional Australia Institute. This trend is largely fuelled by the rise of remote working arrangements.
As regional towns experience sustained population growth, it is anticipated that service gaps will emerge, presenting significant commercial prospects for small businesses seeking expansion. By venturing into regional communities, franchise owners not only open up opportunities for significant profitability but also contribute to the economic growth of small cities and towns.
"It's a win-win situation where their franchise can make a positive impact, build relationships and give back to these communities provided they approach the expansion with a mindset of learning and understanding, adapting their offerings to meet the specific needs of the local residents," Rajakumar said. 
Becoming 'Seller-Ready'
Valentine offers valuable guidance for those business owners who are considering selling, stating, "There are things you can do over a longer period of time to make sure you're 'seller ready'.
"Clean up the balance sheet, make sure that your business is running as profitably as it can so there's not too much that needs to happen to make it look good from a sell position. The other thing is making sure that your franchisees, as they go along, are focused on what their 'end game' looks like. So how are they preparing for that whether it's a sale or retirement.
"How much do they need? Have they been planning for that from the start to make sure they're maximising every opportunity that they have each year? Super contributions are great for retirement, and they save you tax as you go along. Make sure that they're really making wise decisions about what they do with their profit each year, so at the end, it's not all about how much they're going to get for that franchise."
The Exit: A Call to Franchise Owners
Walford draws attention to a missed opportunity in the franchising world – resales. Walford said, "Speaking to so many franchisors over the years, I'm always surprised by how many franchisors want nothing to do with a resale. From a branding and marketing perspective, I'm stunned by that.
"You want people exiting the business as happily and as easily as possible, protecting the value of the investment because it helps you sell more franchises down the track. It means less grumpy phone calls when those potential franchisees are calling exited franchisees. Franchisors should be getting more involved with the exit process and making it part of their entire business."
A 'Tsunami' of Sellers
The future of franchising promises a dynamic mix of challenges and opportunities. With the tsunami of retiring baby boomers and the subsequent transfer of generational wealth, the landscape of business ownership is undergoing a seismic transformation.
"As millions of baby boomers reach retirement age, a tremendous transfer of business assets, estimated to be worth AU$6.75 trillion, is expected in the coming years. This paradigm shift necessitates innovative solutions to meet the unique needs and challenges faced by aspiring entrepreneurs. So, if you haven't begun preparing for this yet, start now," Rajakumar added.
"Harness the power of data, standardise practices and embrace evolving recruitment strategies to thrive. We will see a significant rebound coming, in terms of the pipeline of inquiry, all around the market. So hold tight and be consistent. I believe there's a 'Golden Age' coming in another two to three months."