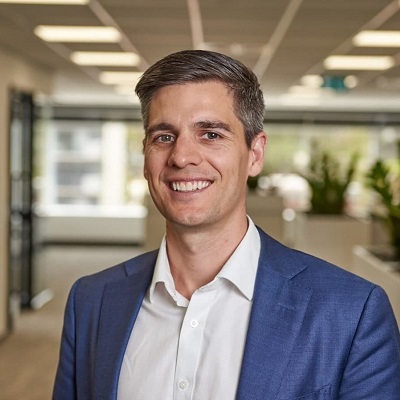 Former DigitalX CEO Leigh Travers joins Binance Australia as Chief Executive
Binance Australia has today announced the appointment of Leigh Travers, former DigitalX CEO and Director, who joins the organisation as Chief Executive Officer.
Travers has spent the last seven years playing a pivotal role in building products and growing networks for DigitalX, the world's first publicly listed blockchain technology company. Prior to joining DigitalX, he served on the Board of Australia's blockchain industry body, Blockchain Australia.
Travers states part of his excitement in leading the Binance Australia team stems from a shared passion for facilitating the adoption of blockchain and digital assets in Australia.
"I've long been an advocate of the benefits that blockchain technology has to offer society, and it's a mission of mine to grow the industry over the coming years," said Travers.
"My key interests are shared with Binance Australia in championing the adoption of blockchain and the pathway for blockchain businesses in Australia. The opportunity to work with users nationally is incredibly exciting.
"Since Binance Australia launched last year, it has been one of the fastest growing FinTech companies in Australia, and for good reason. Since the launch, Binance Australia has continued to innovate and become a leader in the digital asset industry nationally. I have set some high expectations and am looking forward to the opportunity," said Travers.
When asked what is first on the agenda for his appointment at Binance Australia, he points towards a strong focus on growing the brand and the company's working relationships with regulators.
"I have immense belief in the quality of service Binance Australia provides customers, and I want to ensure that every Australian looking to invest in cryptocurrency considers our offering.
"From an industry perspective, I know it's imperative that we continue to develop our relationships with regulatory bodies while reinforcing our company commitment to compliance and best practice.
"As the market leader in the digital asset space, we have a responsibility to be involved in helping to shape the growth of our industry and this means prioritising engagement and conversations with policy makers and regulators. It is essential to advocate for a graduated, fit-for-purpose regulatory framework so that Australia can be a global leader in innovation and create jobs for the future economy.
"I also believe this goes hand in hand with a commitment to growing Australia's understanding of digital assets, how they work, and how to safely engage with them.
The team has been doing incredible work in leading education masterclasses every month, and I can't wait to take this to the next level," said Travers.
Sam Teoh, Chief Operating Officer at Binance Australia, says the team is excited to welcome Leigh Travers' talent to the company.
"We've observed the work Leigh has done at DigitalX for a while now and we're excited to work with him not just on Binance Australia's continued growth, but widespread adoption of blockchain businesses and cryptocurrency in Australia at large," said Teoh.