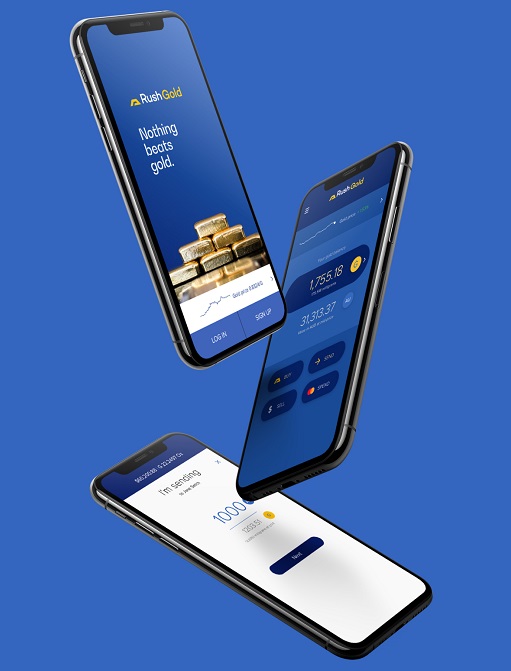 Fintech Rush Gold (formerly SendGold) raises $3m in Series A Funding Round
Rush Gold, an Australian-based global fintech, today announced that it has raised $3m in a Series A funding round, increasing their total raise to $6.8m.
The round, led by Dragon Tree Capital, experienced investors in global physical mining, and fintech and payments businesses, including Andrew Barlow (Hitwise, MaxSuper, Adslot, Nitro Software), Rami de Marchi (ex-Affinity Private Equity), Prof. Gustavo Schwenkler (Santa Clara University, Cointree, Indicia Labs), Tom Krulis (Petstock, Star Pharmacy) and Matt Bailey (Bailey Boys, Photon Group). They were joined by several existing shareholders including entrepreneur Darren Harrison, co-founder of transact and Fidelia Systems.
Rush Gold is building a global open API Gold Bank for retail, sophisticated investors and business customers for savings, transactions, and lending, and will use the funding round to expand the global distribution of its Gold-as-a-Service platform business from existing customers in the U.S. and India, to new customers in Australia, Central and S.E. Asia, and Africa as well as to improve the digital onboarding experience for business customers.
Dragon Tree Capital's CEO Stephen Roux commented, "Rush Gold has demonstrated a resilience and focus on digitising access, distribution and storage of gold right down to the consumer through its platform and processes. Rush sits with a robust system and process enabling consumers to own gold anywhere around the world as an asset, in their name, from their lounge room without wondering 'what's this piece of paper worth' or other risks and issues when trading securities, currencies or cryptocurrencies!"
Rush Gold's CEO and Co-Founder Jodi Stanton said, "We are thrilled to have such experienced investors on board as we embark on our next phase of growth."
In 2020, Rush Gold's monthly transaction volume soared by over 1000% as a result of unprecedented market uncertainty, and demand for alternative investment products. The team also launched SMSF and company accounts as well as the Rush Mastercard® card, in partnership with EML. This debit card uniquely enables their customers to spend gold real-time online and through the world's major mobile wallets, making gold a digital currency.
Rush Gold has won several awards including Digital Disruptor of the Year 2021 (Finder Innovation Awards), Finance Business of the Year 2020 (myBusiness Awards) and Best Investment Innovation 2020 (Finder Innovation Awards). Rush Gold are also a finalist for four awards including the Best Partnership of the Year 2021 (Finnies), and Ms. Stanton is also a finalist for two awards including Fintech Leader of the Year 2021 (Women in Finance Awards).