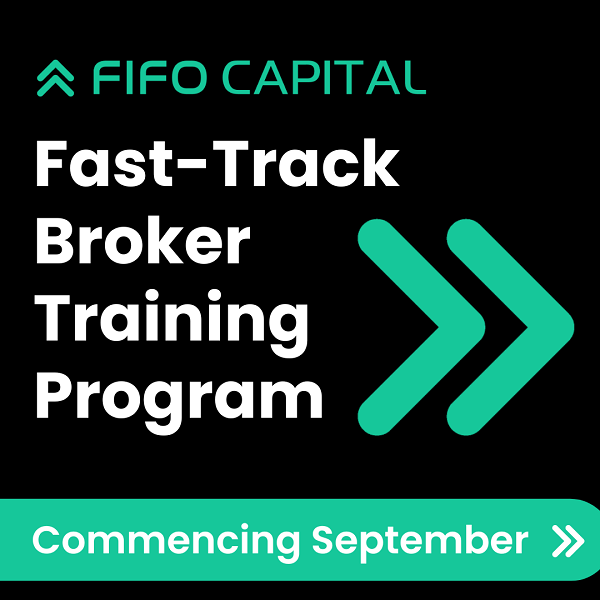 Fifo Capital empowers mortgage brokers to conquer the commercial market with new tech and training program
Fifo Capital, Australia's leading SME finance partner, has launched a revolutionary Fast-Track Training Program, recognising the importance of streamlined training to empower mortgage brokers to successfully expand into the commercial lending market.
By participating in Fifo Capital's Fast-Track Program, mortgage brokers gain access to a wealth of resources, including comprehensive training modules, advanced technology solutions, and personalised support.
Led by expert working capital finance professionals, Mark Occhiuto, Simon Suggett and Andrew Allen, the program offers invaluable insights and industry knowledge, with exclusive mentorship covering essential commercial lending aspects.
From gaining critical industry insights to arming themselves with product information and essential knowledge about credit and risk, brokers will be equipped with a holistic and comprehensive understanding of the commercial landscape.
Mark Occhiuto, Director at Fifo Capital, expressed Fifo's commitment to providing crucial support and training to brokers, fostering greater viability, and elevating knowledge in SME finance. "By strengthening the connections between brokers and working capital lenders, we aim to empower a new generation of brokers to offer genuine, sustainable, and powerful finance solutions for SMEs."
Occhiuto also highlighted the issue of false promises in the finance industry, saying, "While many lenders claim to offer working capital finance, few truly deliver on this promise. That's why we're taking a leading role in this space, striving to provide better finance options and elevate the standards of the commercial lending landscape."
"We are proud to join forces with Australian Broker and support the esteemed AMPAG Awards. This collaboration has inspired us to develop a one-of-a-kind program that showcases our unwavering dedication to supporting brokers. We're excited to offer this exclusive opportunity to assist more brokers in successfully entering commercial lending."
Fifo Capital's commitment to empowering brokers and providing innovative finance solutions for SMEs continues to drive the company's mission and growth.
The announcement follows Fifo Capital's successful launch of its innovative tech platform, Fifopay. This user-friendly platform revolutionises the way businesses manage and access payments, offering features such as easy access to supplier discounts, AI smarts for smarter financial decisions, and seamless working capital management that drives business growth.
Both initiatives highlight Fifo Capital's commitment to delivering cutting-edge solutions and providing greater support for SMEs through direct-to-client relationships and broker channels.
As an exclusive part of the training program, brokers will have access to a white-label version of the new Fifopay platform, valued at more than $45,000.
Don't miss out on this exclusive opportunity to fast-track your lending capabilities and unlock new opportunities in the commercial market. Sign up now to take advantage of Fifo Capital's Fast-Track Commercial Lending Program by visiting https://fifocapital.com.au/broker-fast-track-program