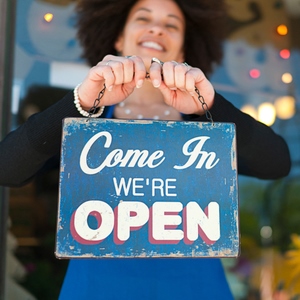 Commercial finance fintech and business lender join forces to give Australian small businesses a fighting chance
The funding gap in small and medium business (SMB) lending in Australia is estimated at more than $90 billion. It was reported in late 2020 that the major banks are rejecting more than a quarter of SMB loan applications, and – pandemic aside – it has been difficult for SMBs to get traditional financing for years.
Yet many need help with cashflow, with injections of capital to help them grow and with purchases of equipment and stock to help them run their businesses. It's not just about survival and day-to-day operations; many businesses need access to funding to help them take advantage of opportunities
They need funding options. Compounding the problem, small business owners are time poor as they focus on making a go of it, so it's difficult for them to be fully across the lending alternatives that actually do exist. They need help.
"We strongly believe in enabling businesses greater access to aligned funding solutions that alleviate working capital challenges or facilitate growth," said Donelle Brooks, Head of Third Party, Lend.
"We're delighted to welcome Limba Loans to our lender panel – particularly at a time when many businesses will benefit from additional capital leading into the end of the financial year," Ms. Brooks continued.
Lend continues to actively extend its secured and unsecured small business loan facilities to support brokers as they 'bridge the gap' between SMBs and alternative commercial finance. Its partnership with Limba Loans will be a welcome addition and aligns with the growing requirement for SMBs seeking fast, flexible, short-term loans.
The Lend commercial finance platform provides a centralised hub of alternative finance solutions to brokers and businesses nationally. It is renowned for its sophisticated AI product-lender matching technology that instantaneously provides business borrowers an overview of product(s) that directly align with their profile and requirements.
"What we like most about Lend is that they are as much about providing alternative finance options to brokers as we are," said Olly Guilleaume, General Manager, Limba. "Following an online Lend inquiry, brokers can deal with a real person at Limba who will take the time to understand their particular situation and walk them through what's required. Coming at it from an educational and informative perspective is a cornerstone to the Lend-broker proposition as well."
"Brokers, especially those diversifying into the small business lending space, need lenders and application processes that are easy to deal with, that are responsive and informative, and that specialise in loan products that are designed with small businesses in mind," said Guilleaume. "Limba will contribute just that to the Lend platform."
Together, Lend and Limba are bringing brokers and small to medium sized businesses options outside of the traditional banking and lending institutions, so they can access the funds they need to grow and succeed.