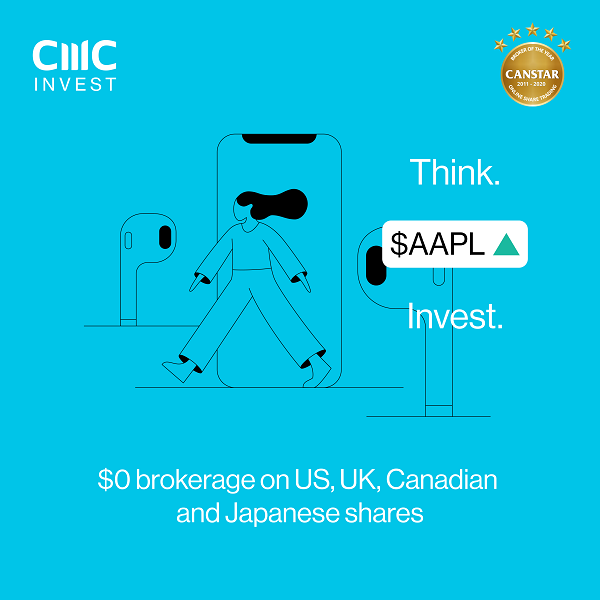 CMC Markets launches new 'Invest' stockbroking platform
CMC Markets, Australia's second largest retail stockbroker, has rebranded its stockbroking platform to CMC Markets Invest, reflecting a new era of share trading as a new generation of investors reshapes the industry.
CMC Markets' ongoing investment in technology and digital transformation to bring cutting edge innovation to their traders and the wider sector led to the rebrand. It comes as the Australian share trading market has grown by more than 14% from December 2020 to approximately 1.43 million unique individual online traders.
Matt Lewis, Head of CMC Markets, Asia Pacific & Canada said, "At CMC Markets, we pride ourselves on staying ahead of industry trends and being a first mover in the offering we provide to our customers. The shift to CMC Markets Invest reflects the change we have witnessed in the way customers are looking for and interacting with, online brokers. It's an exciting new era for our brand after more than 30 years, and we look forward to continuing to support more Aussies as they build their financial future."
"Interest in retail trading is at an all-time high, and people are looking for a trusted partner – it's about offering transparency, access to home grown and international opportunities, leading technology and service, and ensuring clients feeling empowered to make smarter decisions," Lewis said.
CMC Markets Invest is being launched to market with a new integrated 'Think. Invest.' campaign alongside a streamlined client onboarding process.
Lewis added, "For new and existing traders, CMC Markets' leading platform enables clients to trade thousands of instruments across a number of markets, and we provide access to expert analysis and education to ensure they have the very best information at their fingertips.  The 'Think. Invest.' campaign further builds on this market leading service and educational offering, and we're excited to bring it to market."
The rebrand also coincides with a new CMC Markets mobile app, providing traders with easier access to vital information, including charting, course of sales and support.
Ryan O'Doherty, Head of Product at CMC Invest said, "It's never been more important to make sure that investors feel supported and are armed with information to make informed decisions. Our focus is to design platforms to give all our customers, regardless of their experience, the tools and the insights to invest with confidence.
"More than 35,000 different instruments are available on our new mobile and redesigned desktop platform with just the click of a button, allowing investors to trade on-the-go, from home or however they like."