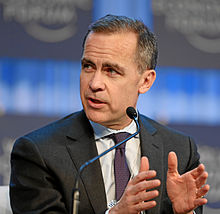 Carney cuts through the fintech hype with clear-eyed take on risk
Financial Stability Board chair Mark Carney's status as one of the world's great fintech boosters makes his occasional musings on the associated risk to the financial system all the more striking.

The Basel-based FSB, which makes recommendations to G20 nations, is thinking deeply about the appropriate regulatory response to fintech's risks and rewards and will report its conclusions to the G20 in July.

Carney revealed some preliminary thoughts at the same G20 conference in Germany attended by Scott Morrison, where the Federal Treasurer told global economic leaders that Australia was strongly pursuing blockchain technology and wanted to unlock the "enormous" potential of the nation's data.

Fintech, he said, was about a lot more than digitising money — it was also about monetising digital data.

Carney, who doubles as governor of the Bank of England, started off in a similar vein, spruiking London as the world's leading fintech centre.

Ironically, as he talked, there were reports that German regulators were preparing to meet up to 20 foreign banks to try and lure some of their operations to Frankfurt in the wake of the Brexit referendum in the UK.

Carney's core message was that fintech companies should expect tougher regulation in response to the use of disruptive technology, with the financial services industry having a long history of innovation leading to "early booms, growing unintended consequences and eventual busts".

The FSB chief said fintech could signal the end of the traditional universal bank model as well as increase herding risks by making the system more interconnected and complex.
To read more, please click on the link below…
Source: Carney cuts through the fintech hype with clear-eyed take on risk – The Australian