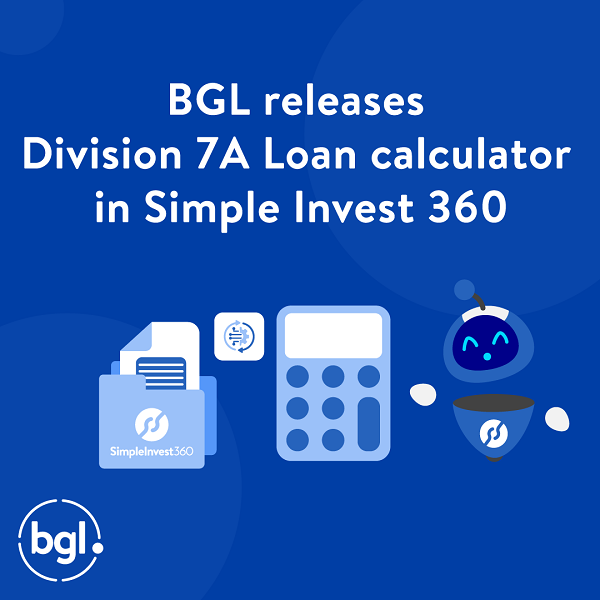 BGL releases Division 7A loan calculator in Simple Invest 360
BGL Corporate Solutions has announced the release of a Division 7A loan calculator and manager feature in its accounting, investment and tax software, Simple Invest 360.
"We're thrilled to introduce the Division 7A loan manager in Simple Invest 360," said Ron Lesh, BGL's Managing Director. "This feature equips BGL clients with cutting-edge tools to help them tackle the complexities of Division 7A loans, a fundamental component of contemporary accounting management that affects trusts and companies."
Andrew Paszko, Simple Invest 360 Product Manager at BGL, said, "The Division 7A feature is the result of feedback from clients on the challenges faced by businesses dealing with Division 7A loans. This feature will not only calculate the minimum repayments and interest payments but will then post the journals for these payments to the ledger. These transactions can be posted for both companies as the lender as well as a trust or shareholders as the borrower."
"Our Division 7A feature goes beyond traditional financial management software," added Lesh.
"With its integrated capabilities, users can easily reconcile ledger balances, ensuring financial accuracy and compliance. But what truly sets this feature apart is its seamless integration with dividend payments. We understand the common practice of offsetting minimum repayments, and our feature is designed to accommodate this efficiently."
The Division 7A feature introduces a global entity view to Simple Invest 360, providing a comprehensive overview of Division 7A balances across entities and simplifying monitoring processes. Additionally, the feature offers clear differentiation between secured and unsecured loans, catering for varying loan terms. The intuitive user interface allows easy access to loan worksheets, ledger balances and documents linked to loans, streamlining the process of posting journals for dividends and interest and ensuring a cohesive and integrated workflow.