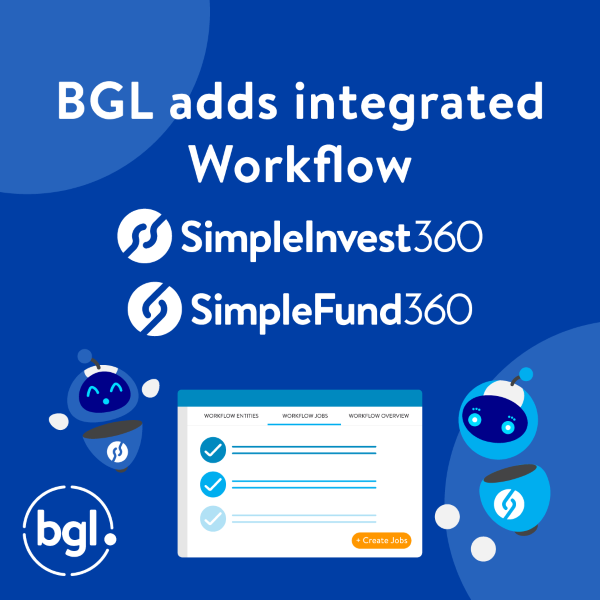 BGL adds integrated Workflow to Simple Fund 360 and Simple Invest 360
BGL Corporate Solutions, Australia's leading provider of company compliance, self-managed superannuation fund (SMSF), investment management and AI powered paper-to-data solutions, has announced the launch of its Workflow module in its multi-award-winning SMSF administration and investment management solutions, Simple Fund 360 and Simple Invest 360.
"Managing all the tasks associated with a client's monthly processing and annual accounts is a huge challenge for accountants and administrators," said BGL's Managing Director, Ron Lesh.
"I'm excited to release our highly requested Workflow module that will streamline and automate this process for BGL clients."
The integrated Workflow module allows BGL Simple Fund 360 and Simple Invest 360 clients to quickly identify and track jobs for specific SMSFs and portfolios, including job status, pending jobs and recent completions. This feature also aids in team management by tracking deadlines and enabling task delegation.
Jeevan Tokhi, Head of Simple Fund 360 at BGL, said: "In my extensive interviews with BGL clients, it is evident that clients want more control over job status. Many clients continue to maintain workflow in Excel, often relying on this as their primary job-tracking tool or using it in tandem with software like Xero Practice Manager. Our objective is to encourage firms to eliminate the use of spreadsheets altogether."
"BGL clients can now create custom workflows or use standard templates to align with their firm's processes. They can leave comments, update tasks, track job completion and develop customised job templates for all entity types. Additionally, clients can reassign tasks in bulk if team members go on leave or depart the organisation. The Workflow module also provides an export of jobs to Excel for further customisation."
"BGL has also automated the Workflow module based on events triggered within the software. For example, when an entity's annual return is lodged, this will automatically update the status of the associated task. Leveraging its robust ecosystem, BGL plans to integrate the Workflow module with audit partners, document providers and practice management solutions via its free and open API," concluded Tokhi.