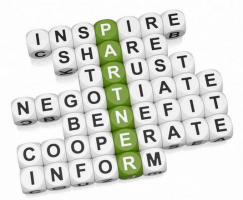 Banks must partner to win disruption battle
Colin Barnard, industry leader for finance at Google Australia, has some good news for the nation's banks.

"I don't think Google ever really wants to become a bank," he told The Australian Financial Review Banking and Wealth Summit in Sydney on Wednesday.

But Mr Barnard also had a warning for financial services companies that believe they can see off the army of disrupters on their own.

"You can partner and become rich, or you can be lonely and be poor, and eventually die," he said.

The sentiment was echoed by Helen Lorigan, who is an advisory board member of fintech start-ups HashChing and Investfit and is a venture partner of Sapien Ventures.

She said existing industry players needed to look at a "federated company model" where they would bring in partners of different sizes, and with different expertise, to complement their existing products and services.

"The customer owns themselves and they will decimate industries if they see a better value proposition," Ms Lorigan said.

"Only focus on what you can do well and partner with best of breed for the other stuff."

Tiziana Bianco, general manger of Commonwealth Bank's innovation labs, said the bank was working on a range of experiments across its business – including a social robotics trial that was the subject of a recent paper presented at US university Stanford – but was prepared to be flexible with its approach.

For example, Commonwealth Bank's Albert terminal was an example of how it has created an open platform that other developers could use, but the bank has also developed products on the platform of others.

"You can either participate in a platform, or create an ecosystem others can participate in," Ms Bianco said.

Danny Gilligan, chief executive of the Westpac-backed venture capital fund Reinventure, said the modularisation of banking – where each part of the banking process was being attacked by start-ups – was leading to a boom in innovation because of the low barriers to entry.
To read more, please click on the link below…
Source: Banks must partner to win disruption battle | afr.com